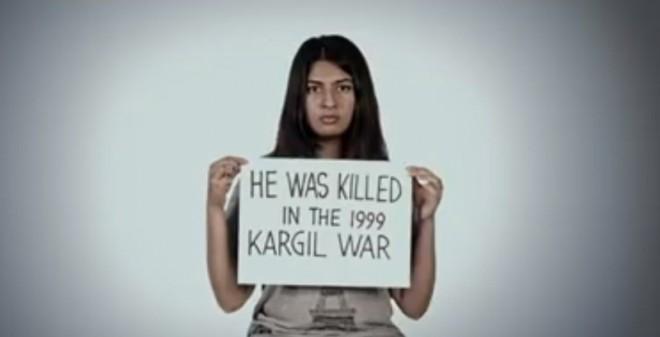 Twenty-year-old Gurmehar Kaur has given us hope. No matter how much humiliation she has faced from the self-proclaimed servants of the nation and others, Kaur has given us the hope that the future generations of this country are not ready to accept fanaticism.
Despite the odds and threats, they are not afraid to speak out their minds. Kaur deserves no less a salute than her late father, Captain Mandeep Singh, who died when she was two years old while serving the country at the battlefield in Kargil in 1999.
But unfortunately, the India of today doesn't value tolerance. In today's times, if you are tolerant, you are an enemy of the nation where you took birth in.
Nothing could have been more honest than Kaur saying: "Pakistan did not kill my dad, war did." To those who claim that the woman's mind has been "polluted" or that she is "using" her dead father, or ask whether she is a Muslim, to say to them that "you should be ashamed" will be an understatement. A daughter need not "use" her father. If India has lost several brave sons in conflicts over the years, Kaur has lost her only father and no love for nation can ever replace the pain she harbours. Let's not forget that.
Pakistan haters are turning India into a 'Hindu Pakistan'...
The power which speaks in today's India lacks sensitivity. It doesn't like the co-existence of any other school of thought or opinion apart from its own well-nurtured fanaticism. It hates Pakistan but never fails to turn India into a 'Hindu Pakistan'. By the way, how many soldiers have we succeeded in protecting after a hyper-nationalist regime took over in 2014 – despite the surgical strikes and all?
Give Kaur's family values some respect
Kaur's story revealed through the placards doesn't just speak about Pakistan. She has shown how her mother gave her the true lesson of life after her mind got filled with hatred following her father's death. She said in one of the placards that she had tried to stab a woman in burkha when she was just six. But thanks to her mother, she overcame the insanity and has attained the maturity which people much older than her haven't got. The role of her mother in her life is massive. It reflects the true spirit of a family of an armyman.
But look at how those values are being treated in public. A cricketer said his triple centuries were scored by his bat, not him. The mockery found a great appreciation among people who lack sensitivity, and disappointed Kaur herself as it came from someone she admired. The cricketer, effectively, diminished his own stature by mocking Kaur. He should have kept in mind that a fallen soldier can only be shown true respect if his family and its values are respected too. We saw how US President Donald Trump had humiliated the family of a fallen American soldier in the run-up to the poll. Did it appeal to our humanity or does right-wing sentiments don't bother about humanity at all?
Kaur is a representative of the children of our dead soldiers. The way we are failing to protect human lives at the borders, there will be a time when we will have many grown-up Kaurs around us, learning the way of life in a hard way after losing their beloved fathers. If each of those minds only thinks about revenge, we are doomed. But if they learn to take things as Kaur did, this world still has some hope.
Dear 'lovers of the nation', don't see brain-washing and betrayal in Kaur's words. Let's not hijack her individualistic space to please the State. What she said makes sense. Now, how we see things is up to us.