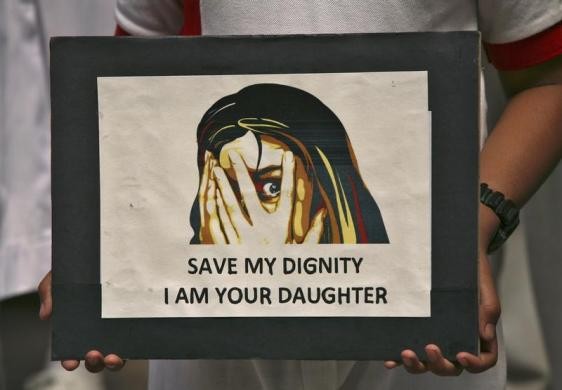 Three persons had allegedly gang-raped a 23-year-old woman for more than four months, since November last year.
The victim, a resident of Gurgaon, first came into contact with one of the attackers named Pradeep Kumar in November. Pradeep contacted the victim on phone by posing as a call centre representative. He assured that he would get her a job at the call centre, reported Daily Mail.
"Kumar had contacted the victim as a he assured her to provide her a job in a call centre. When she met him the first time at Gurgaon's Rajendra Park area, the accused took her to a rented house in Nangloi after telling her that some preparation was required before the interview," investigating officer Rashik Lal told the daily.
After they reached the house, Pradeep, his brother Kedaar and cousin Neeraj allegedly raped the victim at gun point. Pradeep reportedly forced the victim to marry Kedaar and all the three raped her for over a period of four months.
After facing months of ordeal, the victim managed to escape from the clutches of her attackers and reached her parents' house in Laxman Vihar, in March. When the victim and her family approached the police, they refused to register a First Investigation Report (FIR), after which the woman approached a local court. The court directed the police to register a case of rape, criminal conspiracy and kidnapping under sections 376 and 506 on Saturday.
Following the court's directive, the cops arrested Pradeep. But Kedaar and Neeraj are absconding. According to Lal, a team has been set up to catch the culprits.
Even as major protests took place in the wake of the gang rape of a 23-year-old physiotherapy student in Delhi last December, nothing seems to have changed as rape crimes against women and children continue. In April, a five-year-old girl was brutally raped repeatedly by two men in Delhi.
Another four-year-old girl, who was brutally raped and dumped at a farm in Seoni, Madhya Pradesh, died of a cardiac arrest at Nagpur's Care Hospital in April.
There have also been rising instances of foreign tourists being raped. In March, a Swiss woman camping with her husband in Madhya Pradesh was gang-raped by five men. As recently as on 3 June, an Irish woman who is doing voluntary service with a Kolkata-based NGO accused a 25-year-old man of raping her after the two had partied at a nightclub on Kolkata's Park Street.