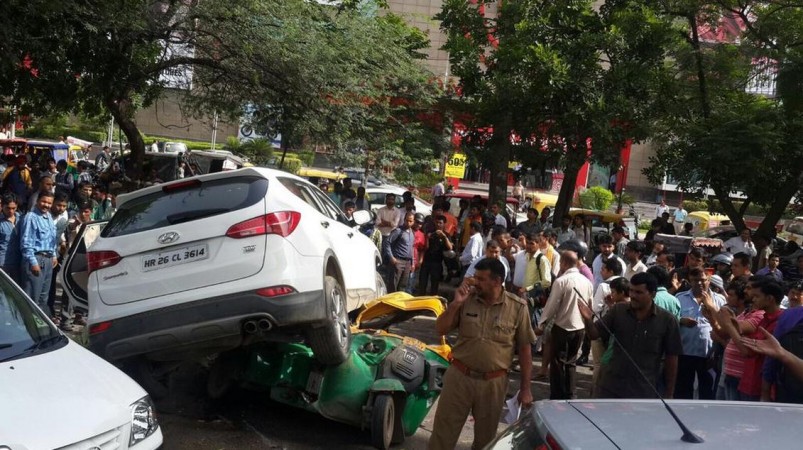 In a suspected gang war on Wednesday morning, three unidentified men opened fire at an SUV, resulting in an accident on the busy MG Road in Gurgaon. At least one person was killed and another was injured.
The accident resulted in the death of an autorickshaw driver, who was declared dead on arrival when he was rushed to a nearby hospital. The injured was the driver of the SUV, who was admitted to a hospital in critical condition. However, his condition is said to be stable now.
The accident took place near the Central Mall outside Times Tower at around 9 am. Three men in a car with Uttar Pradesh license plate opened fire at an SUV, injuring the driver.
In an attempt to escape the bullets, the driver of the SUV rammed into three other vehicles. While two cars overturned, the autorickshaw parked in the area was crushed by the SUV. The photographs of the accident show a partially-flattened and crushed auto.
"We heard gunfire and suddenly saw a car flying after breaking the divider and landing on an auto-rickshaw. The drivers of both vehicles were rushed to hospital," Hindustan Times quoted an eyewitness as saying.
The Gurgaon police said that the attack seems to be a result of a gang rivalry and the target was gangster Rakesh Kumar from Hayatpur village in Gurgaon, who was in the SUV.
Kumar was going to Gurgaon district court for a hearing in a case registered against him. When his SUV met with the accident, he sneaked out of the car and hid inside a nearby building, according to eyewitnesses. He was later brought out of the building by police officers, HT reports.
The Gurgaon police have arrested the shooters.
"We have arrested the accused and an investigation is on. This seems to be a case of gang-war," assistant commissioner of police (crime) Ramesh Pal said.
Gurgaon police said gangtster Rakesh Hayatpur was in the car which was shot at on MG road Gurgaon.

— abhishekbehl (@abhishekbehl) July 15, 2015
Eyewitnesses' version of the incident
According to The Huffington Post, some eyewitnesses claimed to have seen three men firing at the SUV, while others claim that someone in a car was chasing the SUV and fled the scene after firing several shots at the car.
"I was near the MG Road metro station and saw ambulances and some blood on the floor. Other people who saw the incident unfold said that the three men came walking towards the car from different directions," one of the eyewitnesses told the HuffPost India on condition of anonymity.
However, president of the Resident's Welfare Association in nearby Essel Towers Rajeev Sinha said that according to eyewitnesses, shooters fled the scene after firing at the SUV.
"An autorickshaw driver who was standing nearby told our security supervisor that the Santro driver disappeared quickly after firing shots," Sinha said.
Gurgaon firing incident: One person killed and one injured- ACP Rajesh Kumar to ANI

— ANI (@ANI_news) July 15, 2015
Car crushes auto On MG road gurgaon after occupant fired upon in suspected gang war. pic.twitter.com/7EvVrrRiaT

— abhishekbehl (@abhishekbehl) July 15, 2015