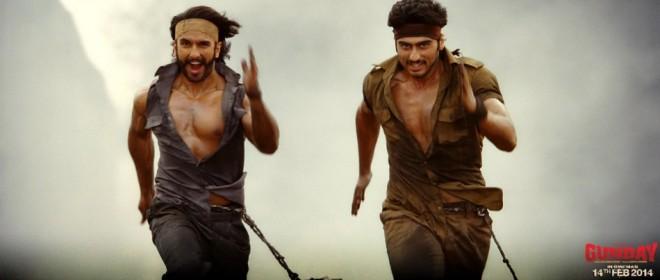 The first Monday box office performance of Ali Abbas Zafar directorial film "Gunday" was decent. The action thriller, released on Valentine's Day, earned ₹5.85 crore on Monday, taking its overall to ₹49.78 crore.
Ranveer Singh, Arjun Kapoor and Priyanka Chopra starrer "Gunday" passed the crucial Monday test with a decent collection from domestic box office.
The four-day breakup of the film according to trade analyst Taran Adarsh is: Friday ₹16.12 crore, Saturday ₹12.63 crore, Sunday ₹15.18 crore and Monday ₹5.85 crore. Total: ₹ 49.78 cr nett.
On Monday, the film witnessed 60 percent drop compared to its opening day, but since Friday was Valentine's Day the collection was pretty high.
Due to the opening weekend earning, the four-day total of the film is good. The film, which also stars Irrfan Khan, had a consistent performance at the box office despite mixed reviews.
Meanwhile, in the international market the film fared well despite being an action thriller film. The UAE-GCC circuit contributed the major chunk of income in the overseas total.
In its opening weekend, the film has raked in ₹13.35 crore ($ 2.16 million). The four-day domestic and opening weekend overseas total now stands at ₹63.13 crore.
Here is the country-wise breakup of the film's box office collection according to Bollywood Hungama:
UAE-GCC: In its opening weekend, the action thriller raked in ₹6 crore (AED139,022).
US: The opening weekend earnings stands at ₹2.53 crore ($409,328) from 133 screens.
Canada: From 17 screens the film managed to accumulate ₹85.96 lakh (US$ 139,022).
UK-Ireland: This circuit contributed the third highest earning after UAE-GCC and US. From 59 screens, the film fetched in ₹2.14 crore (£ 206,721).
Australia: The first three days total of the film is ₹56.41 lakh (A$ 100,974) from 14 screens
New Zealand: From 10 screens it minted ₹21.36 lakh (NZ$ 41,304).
Malaysia: It was released in just one screen from which it fetched ₹99,956 (MYR 5,325).
Fiji: In this circuit also the film was released in just two screens. In the opening weekend the film grossed 6.86 lakh (FJD 20,651).