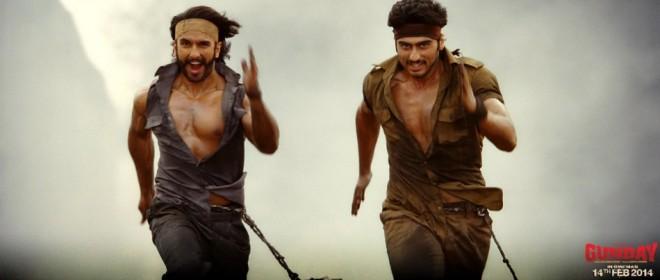 "Gunday" starring Arjun Kapoor and Ranveer Singh in the lead role is maintaining a steady pace at the box office in India.
The income of the action thriller film has declined slightly during the weekdays, but has still managed to remain steady. The fourth, fifth and sixth day earnings of the film are in the same range.
The film, which also stars Priyanka Chopra and Irrfan Khan in the lead roles, has raked in ₹59.46 crore in six days.
The six days breakup of the film according to trade analyst Taran Adarsh is: Friday ₹16.12 crore, Saturday ₹12.63 crore, Sunday ₹15.18 crore, Monday ₹5.85 crore, Tuesday ₹5.15 crore and Wednesday ₹4.53 crore.
Although witnessed a drop on huge Monday, the film managed to hold well at the box office. Overall, the film has turned out to be profitable venture and it will emerge as a "hit" film.
Meanwhile, in West Bengal, the film is facing problem with the dubbed version. The members of Tollywood film industry have asked to halt the screening of the dubbed version of the film.
"We have nothing personal against any producers. In fact we have high regard for legendary producer-directors like late Yashji. But as Bengali film industry is poised for a turnaround with audiences returning to the theatres again, any cinematic work dubbed in the language and screened will create an unfair situation. Our gentle request is please stop this. I would have talked to Yashji about this had he been around ... If any artiste from here still wishes to be part of any such dubbing venture we will be forced to boycott him/her," Bengali film superstar Prosenjit Chatterjee told Press Trust of India.