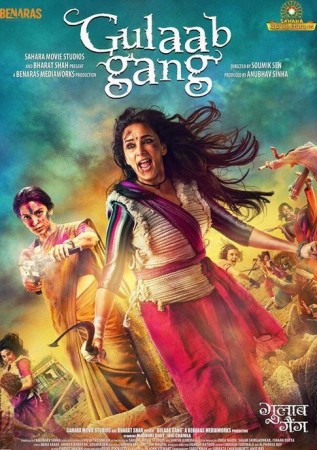 Madhuri Dixit-Nene and Juhi Chawla starrer "Gulaab Gang" has got mixed response from the commentators. Critics have given thumbs up for the direction and the lead actresses' performance, but the songs in the film have disappointed them.
The film marks the debut of Soumik Sen as a director and also features Tannishtha Chatterjee, Priyanka Bose and Divya Jagdale in important roles.
Read the critics' review here:
Shomini Sen of IBNLive in her tweet review said: "Very impressive animation with the introductory credits. Sets the mood of the film well. #GulaabGang
"Transition from one scene to the other isn't smooth. #GulaabGang. Remember the actress who featured in Tanishq ad recently? Theater actress Priyanka Bose is brilliant in her role.
"The issues that are being highlighted in the film are all known. Corruption, rape, red tapism, inflation, poverty. #GulaabGang."
"Watch #GulaabGang for its spirited theme and for the two leading ladies. They don't disappoint.
Mohar Basu of Koimoi.com: "Gulaab Gang" is nothing but an over-dramatized, over-filmy depiction of a potent as well as pertinent group of women who are toiling over the derogatory state of affairs of women in rural India. But the good part about the film isn't its noble intention, but the sputtering chemistry of Madhuri Dixit and Juhi Chawla that makes it a film worth investing on. Though Chawla soars in her stronger portrayal, Madhuri's indomitable conviction of delivery wins just as much. For them alone, watch and applause it.
"Gulaab Gang is not unforgettable but not unwatchable either. With many euphoric moments of utter jubiliation, the film's stronghold is Madhuri and Juhi with individually mettlesome performances and the friskily excitable chemistry together. The film fails to use its scope rightly and delivers an extremely creased up affair. But for it's impeccable leading ladies, who are gritty in their parts, the film slips out a 3/5 from me."
Vinod Talreja of Bollywoodlife.com: "Director Soumik Sen's casting coup has not been wasted, we must say. Yes, the film is based on the life of an activist Sampat Pal and there is a particular scene in the movie, which is based on true events. We wish he had acknowledged Pal's movement in some manner or the other. That way, the film would have stayed away from the unnecessary controversies. Apart that, Sen surely deserves a pat on his back for choosing a subject of serious concern.
"Talking of the shortcomings, having too many songs in such a serious film is not happening at all. There's a song at every juncture, which might irritate you a bit. No complaints other than that."
Sneha May Francis of Emirates 24/7:: "Debutant director Soumik Sen's casting coup is wasted in a story heavily inspired by an all women gang of social crusaders called "Gulaabi Gang." Although Sen steers away from turning it into a documentary, he liberally borrows real-life references from their pink revolution and guns for box-office glory without even acknowledging their movement.
"Sen's efforts, however, would have been far more rewarding, if he had stopped indulging his Madhuri fixation. Making her dance in synchronized poetic moves and even giggle when her student blurts out a reference to her iconic "Ek,Do,Teen" dance number, ruins the impact of the person she's portraying.
"Even though "Gulaab Gang" has so much going for it, it fails to win our applause."
Manjusha Radhakrishnan of Gulf News:: "It's not often that you walk out of the cinemas reminiscing about the villain than the superwoman who saved the day in a film."
"While the film is largely entertaining, I wish the director had not bowed down to the pressure of turning "Gulaab Gang" into a typical Bollywood masala film. There's a song at every juncture - there's a song about women weaving pink saris and there's song about women celebrating Indian festival Holi.
"Rajjo's perfectly style hair that cascades down her back in waves also remains intact, despite all that roughing up. But, if you can jump over such creases, then "Gulaab Gang" makes for a fun watch."
(Edited by Anu James)