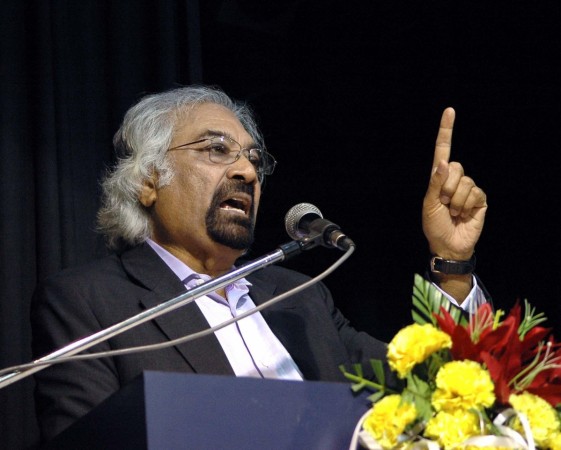 Sam Pitroda, the founding chairman of India's Telecom Commission, has criticised the Bharatiya Janata Party's Gujarat model of development.
The poll-bound state needs a bottom-upapproach to uplift the downtrodden as the top-down approach only benefits the big corporates and businessmen, he said, in an e-mail interview with IANS from his Illinois residence in the United States.
Pitroda, who played a significant role in bringing India's telecom revolution during mid 1980's under the then Prime Minister Rajiv Gandhi, stressed that the youth, women, farmers, Dalits, Muslims and the traders along with the entrepreneurs are suffering from the adverse impact of demonetisation and Goods Services and Tax (GST).
Referring to the Gandhian model, Pitroda said: "Gujarat needs a Gandhian model of development bottom-up. Development should not be assessed in terms of how many lakhs or crores of rupees you can bring in as investment at global investors' conferences. It doesn't mean you dislike big corporates. But what will transform Gujarat is what do you do for the poor."
He played an important role in organising the Congress vice-president Rahul Gandhi's recent visits to the US apart from drafting the party's manifesto for the upcoming Gujarat assembly elections.
Pitroda, who extensively travelled across the poll-bound state last month, said that the education in Gujarat is highly privatised. He said: "The medical education alone can cost up to Rs 80 lakh."
He further highlighted the sad state of affairs in the health sector. "Of the 4,500 doctors that pass out every year, only about 500 go to rural areas. The remaining pay a penalty of over Rs 10 crore to escape such stints."
The former advisor to Rajiv Gandhi, also spoke on how banks are not providing loans to small and medium scale traders. "Banks are not giving loans to the traders, small and medium entrepreneurs who are groaning under the adverse impact of demonetisation and the Goods and Services Tax (GST). They are ready to give loans to big corporates but not for small entrepreneurs. The focus is on big projects like that of Tata Motors."
On the plight of farmers, Pitroda stated, "The farmers' complaints are that fertile lands are taken away from them with some compensation given. But after that, no industry comes up on those lands. There is no economic profit for the local society. GIFT (Gujarat International Finance Tec-City) has a huge area of land but just a couple of office buildings."
Rebutting BJP's criticism of Congress over fielding leaders on caste lines (Patidars, OBCs, Dalits), Pitroda said, "There is nothing wrong with this as each group is a constituency in a democracy which has a right to be heard and its grievances addressed. They deserve attention. What is wrong in aligning with Patidars or other groups?"
He further said that if Congress comes to power in the state, a Gujarat Advisory Council will be set up on the lines of National Advisory Council that existed during UPA-I and UPA-II.