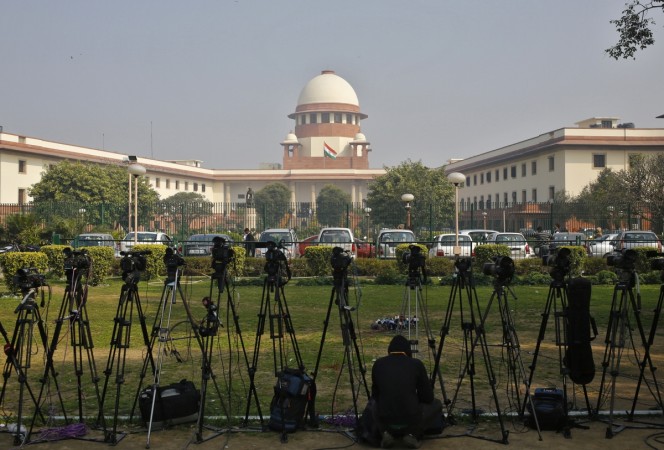 The police on Thursday scouted the home of social activist Teesta Setalvad after a Gujarat court declined her plea for anticipatory bail in a case relating to alleged embezzlement, but the apex court restrained her arrest.
Fifty-three-year-old Setalvad and her husband Javed Anand, both former journalists-turned activists, face possible arrest in the case. However, the Supreme Court restrained the police from arresting the duo till Friday.
A Bench headed by Chief Justice HL Dattu, while restraining police from arresting Setalvad and her husband for one day, directed the listing of the matter on Friday.
The court gave the order after counsel Kapil Sibal mentioned the matter before it.
The police teams enquired of her family and staffers on the whereabouts of Setalvad, who was not at home.
Setalvad and her husband have fighting for the victims of the communal carnage which engulfed Gujarat following the Godhra train incident of 27 February 2002.
The couple, and some others have been accused of allegedly misappropriating around Rs.15 million collected through their NGO Sabrang Trust, for setting up a museum at the Gulbarga Society in Ahmedabad where around 69 people were killed during the communal conflagration.
The complaint against Setalvad was filed by 12 residents of the society after the plans for the proposed museum were put in cold storage citing various issues.
However, Setalvad - whose bail plea was rejected by a lower court in March 2014 - has termed the allegations as "politically motivated".
Earlier on Tuesday, the Gujarat High Court rejected the anticipatory bail pleas filed by Setalvad, Anand, Tanvir Jafri, son of former Congress MP Ehsan Jafri who was killed in the riots, and Firoze Gulzar, a resident of the Gulbarga Society in Ahmedabad.
Setalvad hails from the renowned Mumbai family of lawyers, which included her great-grandfather MC Setalvad, India's first and longest-serving attorney-general, and his father, CH. Setalvad who was a vice-chancellor of University of Bombay and a member of the Hunter Commission, which probed the Jallianwala Baugh massacre of 1919.