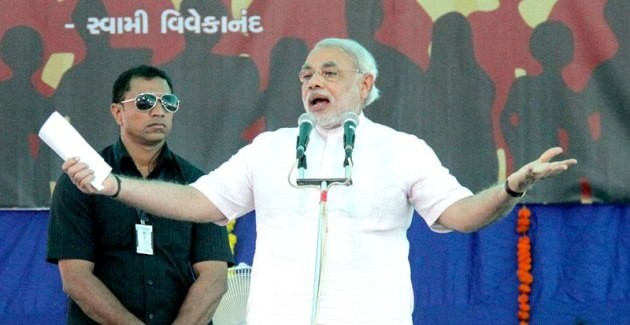 The Bhartiya Janata Party on Thursday added a new chapter in political history after winning the Assembly elections in Gujarat for the third consecutive time.
The Narendra Modi-led party bagged 116 seats to the 182-member state Assembly, falling just one seat short of its elections tally in 2007, and defeating rival Congress which won 60 seats.
Soon after the announcement of the results, Modi thanked his supporters for their votes and expressed his political ambitions for the future. "No need of looking behind ...FORWARD...We want infinite energy, infinite courage, infinite patience..." he said on micro-blogging site Twitter.
BJP leader Arun Jaitley, who has been closely involved in the election campaign, said the party's poll performance was impressive despite the Congress' attempts to hurt it prospects of winning another term.
"Congress will have to do a lot of introspection in Gujarat.... Narendra Modi has a lot of support of the cadre and the party. This is an emphatic win and he has won for the third time in a row," said Jaitley, DNA reported.
Asked on why the BJP failed to score majority in the Assembly polls in Himachal Pradesh, where it managed to win 26 seats against the Congress' 36, Jaitley attributed the defeat to absence of unity within the state unit.
"But there were too many rebels this time in Himachal Pradesh. Had we been able to put our house in order, we would have won....Had the party been united as it was in Gujarat, the results would have been different in Himachal Pradesh," said Jaitley, DNA reported.
Modi's resounding victory on Thursday revived talk of his prime ministerial aspirations. The BJP strongman had served as the state's chief minister since 1998 and is expected to be nominated as a potential candidate for the prime minister elections in 2014. Opinion polls had earlier predicted a hat-trick for the saffron party in the Gujarat elections.