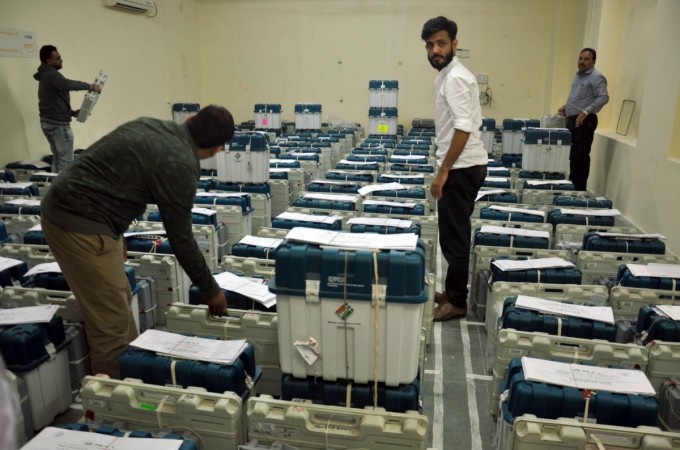 The Wi-Fi services have been suspended at Gandhi Engineering College in Surat city ahead of the Gujarat Assembly election results after Congress candidate Ashok Jirawala from Kamrej seat complained of possible hacking.
Also Read: 2017 Gujarat Assembly election results LIVE
The Wi-Fi was suspended after Jirawala wrote to the District Election Officer Mahendra Patel complaining about the presence of "Namo Wi-Fi" network at the counting centre. The Congress nominee also complained of tampering with the electronic voting machines (EVMs) through Wi-Fi.
"We had deputed two people to keep a watch at the counting centre because we do not trust BJP as it can do anything to win. A Namo Wi-Fi was found in the range of our workers. We wrote to the concerned authorities and demanded to suspend the WiFi service in the area," DNA quoted Jirawala as saying.
The Gandhi Engineering College, where counting of Olpad, Mandvi, Mahuva, Vyara, Kamrej and Mangrol is taking place, Wi-Fi service was provided to the college students. Calling it a BJP's conspiracy, Jirawala said they had complained about EVMs not working properly on the polling day, but no action was taken.
"As many as 13 EVMs and VVPATs were not operating properly in Surat on the polling day. The voters and we complained to the concerned officials but they did not do anything deliberately as they all are having nexus with BJP. The voting was stopped for a few hours and many voters could not cast their votes. That was the conspiracy of BJP and now they wish to hack the EVMs through WiFi here," he said.
The Wi-Fi was suspended after Patel asked authorities to take necessary action. He clarified that EVMs cannot be hacked or tampered, but still suspended the connection.
"We received the complaint from Congress candidate doubting over the tampering of EVMs through WiFi. All the EVMs of six constituencies have been put inside the strong room here. The premise where the counting is going to be held in an engineering college and WiFi service also is operated by them only," Patel told the publication.
"It is not possible that EVMs can be hacked or tampered through WiFi but, we ordered to suspend the service so that they do not have any discontent or objection," he added.