Former One Direction singer Harry Styles has just made his Hollywood debut with Christopher Nolan's upcoming film Dunkirk. And, during the film's UK premiere, the British singer met another world's most famous Brit and that sent the fans into a frenzy.
Also read: Christopher Nolan's Dunkirk: 5 reasons to watch the WWII action thriller
Yes, his Royal Highness Prince Harry of Wales met actor-singer Harry Edward Styles in London's West End on Thursday at the world premiere of the WWII action thriller Dunkirk. Joining the cast, Prince Harry told them, "It's a story that needed to be told."
Dunkirk, directed by the Inception director Christopher Nolan, features a stellar cast including Tom Hardy, Mark Rylance, Kenneth Branagh, Harry Styles, Cillian Murphy, Aneurin Barnard, and James D'Arcy.
Prince Harry served his country for 10 years in the British army and spent two years in Afghanistan as well. He attended the event to honour a group of veterans who were associated with 1940's infamous Operation Dynamo in Dunkirk harbour.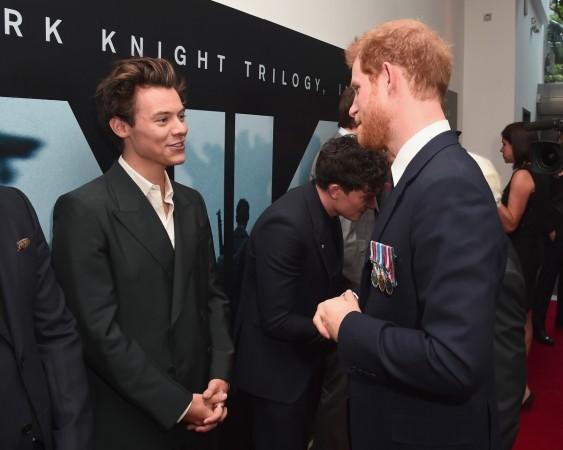 Prince not only attended the premiere, he hosted a reception attended by those veterans at the Kensington Palace.
Prior to this, Prince Harry met singer Harry during a performance by the former boy band One Direction at the Royal Variety Performance in 2015.
But what did world's most eligible bachelor tell his namesake this time?
The 23-year-old singer told the reporter, "Well, he's the Prince. I know who he is. He was just asking me about my tie pin — it's an Arab's dagger."
Dunkirk will open in theatres on July 21.
The Twitterati went berserk over the meeting of Harry and Harry. Here's how they reacted.
PRINCE HARRY AND HARRY STYLES ARE OFFICIALLY IN THE SAME PLACE THIS IS NOT A DRILL

— special crayon (@rialovestea) July 13, 2017