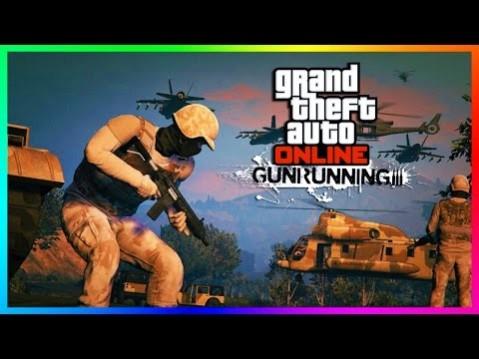 Rockstar Games is yet to reveal the likely release date for the highly-anticipated Gunrunning DLC release in GTA Online, but a potential leak of the DLC recently surfaced on the 4chan forums. As renowned YouTuber MrBossFTW (aka Ross) admits, this is an interesting development in the GTA community as 4chan is the same site which previously leaked the Import and Export DLC, ahead of its official release.
A prolific tipster on 4chan named 'RockstarF' has been accredited for his consistent track record with earlier leaks pertaining to the Biker DLC and Import/Export DLC for GTA Online. It is deemed that 98 percent of the leaked info he shared earlier, including new DLC vehicles, mission details and player accessories, actually turned out to be true.
Now, another tipster by name 'Descendent of The Faggot' has posted a couple of interesting things about the forthcoming Gunrunning DLC update in GTA Online.
In response to a fellow user's comment on 4chan, the tipster suggested that we could see some new military rifles and APC while most of the new content will be based on off-roader theme with modded weaponised vehicles mirroring the Mad Max movie.
In other words, the Gunrunning DLC will be trafficking and survivalist themed update rather than a military update as per the tipster's remark. Well, it seems the Rednecks could make a return from the Call of Duty (COD) franchise instead of the regular mercenaries, and there won't be any new aircraft carrier available for purchase.
The second significant tweak expected ahead of the Gunrunning DLC, includes Rockstar's ability to remove illegally acquired or modded money from the player's in-game bank accounts without penalising or suspending the victimised accounts.
As Ross explains, it seems Rockstar has updated its cheat detecting mechanism affecting PC, PS3 and Xbox 360 systems in GTA Online as per the game developer's recently updated post on its support page.
Furthermore, the 4chan tipster has hinted at a minimum prerequisite of $3 million in-game currency for purchasing all the DLC items in the Gunrunning update. As far as the release date is concerned, the DLC is expected to come out next week with a release trailer tipped for Friday (19 May) or a day before (18 May). The QA beta files have been recently updated to further strengthen the claim that the DLC release could be just around the corner.
There is more conviction in the tipster's last few words on the 4chan forums which reads as follows: "You guys don't need to believe me, just wait and see. Faggot out."