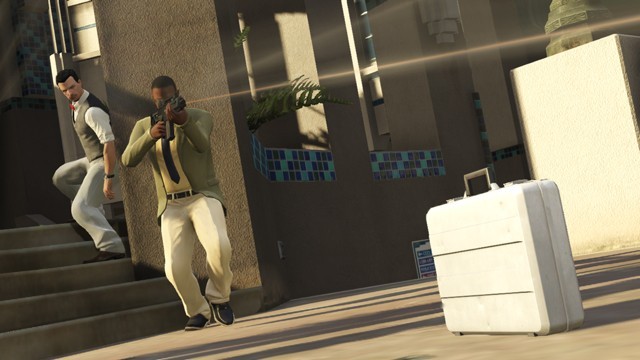 GTA 5 Online, the popular gaming title is all set to receive some new updates for the upcoming Halloween season. New information has revealed that GTA 5 Online is likely to get more updates. These update might pep-up the game.
YouTuber NoahJ456 reflecting upon a fan question on what could be included in the next update for GTA 5 Online tells that a new DLC is most likely to be released in October. And it is likely to be a Halloween update. Since the game allows for lot of customisations, Rockstar, the developer is likely to release masks, costumes for Halloween season with an update.
He also said that Rockstar could also reveal 'Saving Outfit' option from next update. With this option in place players will be able to save outfits -- by combining the outfits and accessories from various updates that were released. This feature will add more meaning to the closets in apartments which can be helpful for players.
DomisLive, another famous YouTuber and tipster spoke about a side mission titled Burgler that was available in GTA San Andreas. Players had to do a side mission to access the burgler van that would let them to invade specific homes and steal electronic goods like VCRs, TVs and so on. He adds that if the upcoming Heists DLC had such a feature fans will be thrilled.
How to Get a Stun Gun?
YouTuber NoahJ456 takes us through how to get a Stun gun in GTA 5 Online. This works even after the patch 1.17. Presently it will specifically be only for PlayStation 3 players.
Player can ask one of their friends to join them in this Job.
As soon as players enter the job, then need to keep some of the security guards.
One of the dead security guards will have the stun gun.
Run over the body of the dead guard who has the stun gun.
After this go to the phone and quit the mission.
After this load back in and the stun gun will still be with the player.
Meanwhile, Gamespur reported that Rockstar will be giving out details of PlayStation 4 version of GTA 5 soon. It said there will soon be a "massive info blowout" regarding the upcoming versions. It said that the upcoming issue of official PlayStation magazine will be covering 10 full pages on the features and details that will be rolling out for the PlayStation 4 version. It will also be releasing some unseen in-game screenshots.
GTA 5 will be released on 18 November, 2014 for PlayStation 4 and Xbox One consoles.
Meanwhile, in celebration of the ten-year anniversary since the release of Grand Theft Auto: San Andreas, Rockstar has released the game on iOS, Android or Amazon mobile device for a limited time. Players will also find Vice City and GTA 3 gaming titles on sale. This sale will be available only till 9 November, 2014.
San Andreas: $3.99 (save 43%)
Vice City: $2.99 (save 40%)
GTA 3: $2.99 (save 40%)