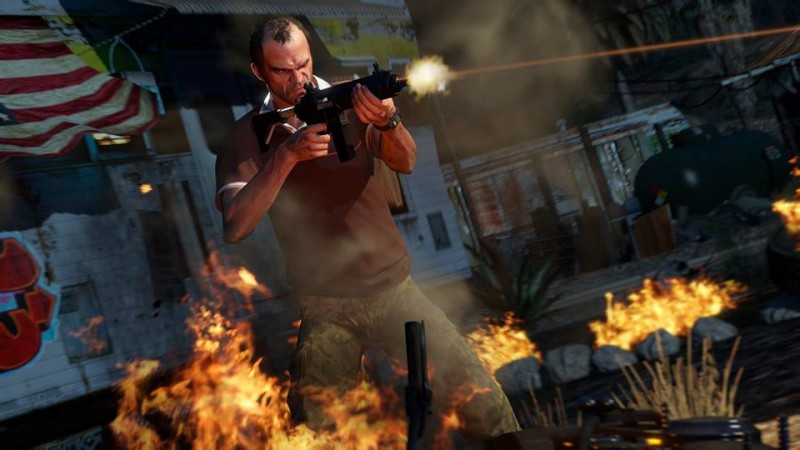 Rumours and speculations are rife about a possible September update for GTA 5 Online, to the point that a respected tipster in the GTA community, Funmw2, revealed that the next update will be coming soon. Some even went ahead and said it could be this week.
Forum members and YouTubers have been discussing the possible content that could be included in a new update and the tentative DLC names for GTA 5 Online. The last update that Rockstar dropped was in July.
Rockstar has only confirmed that it will be bringing Rockstar Editor to the game, but also promised some new content, features and bug fixes for GTA 5.
Hotfix for Modified Armor and More
Funmw2 posted on Twitter that Rockstar will be hotfixing modified armour, ammo and snack values. He also added that players will no longer have modified snacks. But to a question if they will be banned, he said they won't be.
QnA Sessions Reveal Need for New Content on Last Generation Consoles, Places to Explore – Nightclub and Sports Arena
GTA 5 tipster and YouTuber Mr BossFTW fielded questions from GTA 5 fans over his QnA session, where he discussed the mysterious September update and future of last generation.
On being questioned what change he would bring given a chance to work with Rockstar for a day, he humorously answered about in-game advertisements changes. But on a serious note, he would see that the casino in GTA 5 Online is reopened. He also added that he would like to build a big bridge between Las Venturas and San Fierro that is reminiscent of GTA San Andreas.
Speaking about the mysterious nature of the rumoured September update, he said that it is "atypical" of Rockstar since they had provided information before hand on what to expect in Ill-Gotten Gains updates. So we only know about the addition of Rockstar Editor and some freemode features in the next update.
However, he said he believes that this could be like a "standard DLC" that could include cars, weapons and clothing.
[ALSO READ:GTA 5 Online Update: Forum Members Question Reports of September DLC's Rumoured Release this Week]
Another fan questioned if September DLC might roll out for last generation consoles like PS3 and Xbox 360, to which he argued that Rockstar has been blurry when it comes to such details. Rockstar has not shared the specifics of it yet, but since the statement from them also included the freemode, we can be "hopeful" of Rockstar providing this content to last generation console users too.
He takes up another question regarding places he wants to see opened up for some exploration. Though he admits there are lot of such places, the ones he wants are Cluckin' Bell, Bahama Mamas nightclub, stunt arena with a new sporting activity.
He also believes GTA Vice City is the GTA game that would be the topmost game for remastering. He also believes that though Rockstar might not have the Festive Surprise update, something in the line of Christmas theme will be available. On Valentine's Massacre he answered that this might not be repeated again as Rockstar did not do it last year too.
Next Update to Release before 22 September?
GTA Forum members were seen discussing Rockstar's previous statement where it said that Rockstar Editor will be coming out "sometime this summer," and summer ends on 22 September.
Another forum member explains why Rockstar has kept its release date ambiguous. He says that Rockstar might not want to face the wrath of players in case the deadline is missed. He cites High Life update as an example.
Rockstar did not provide any sort of official information before it released the likes of I'm not a Hipster DLC, Independence Day DLC and in the case of Flight School DLC. Fans came to know of it just a day before.
One more member posted that players must not "expect a big update for old gen" and the new update will all be "about new gen/PC." He further added it will be coming next week. He has convincingly said that these are "obvious plan that Rockstar has in mind." Speculations suggest that it is highly unlikely that the new update will be coming for last gen versions like PS3 and Xbox 360.