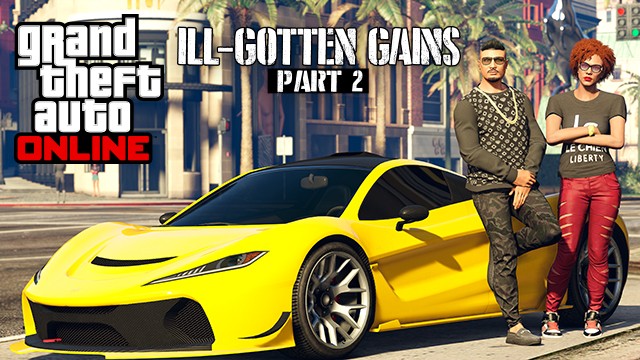 As GTA 5 players prepare for the release of Rockstar's Ill-Gotten Gains Part 2 DLC that is awaiting its release on 8 July, new reveals have suggested unused characters and missions probably belonging to this DLC.
Rockstar had just last week released pictures showcasing new vehicles, weapons and accessories that would be part of the Ill-Gotten Gains Part 2 DLC. The company had revealed that GTA 5 Online players will see vehicles like Coil Brawler, Classic Lampadati Toro, Invetero Coquette BlackFin, Progen T20, Vapid Chino and Dinka Vindicator. However, it mentioned only two weapons – the musket-like Marksman Pistol and Knuckledusters, apart from the confirmation of high-end clothes and accessories.
But before the official confirmation of the above weapons and the vehicles, there was an audio clip leak from YouTube user TurtleeyTY that revealed two new Heists: Drug Flip and FLEECA Money Back Guarantee.
So the audio analysis suggested that players will be able to add interiors, bring in new weapons and vehicles and perhaps new characters too.
(SPOILER ALERT) But there have been new leaks, thanks to GTA Forum user m3tal Z_DKI (via YouTube user MrBossFTW), who revealed "really interesting" data on GTA Online. He said that though some of the images are for the planning board, some are not used and some are for cut heist and others have been replaced with new ones.
He goes on to mention that we can gather the following from the pictures:
Melvin scientist (from prep mission 3 for the second cut heist)
The gay guy, Joseph Whites (from prep mission 4 for the second cut heist)
The getaway vehicles for the Fleeca banks heists (2 Speedophile, from prep. mission 1 for the second cut heist)
Beta getaway vehicle for the Pacific Rimjob (Bati 801, replaced with Lectro)
Old Velum for the Prison Break
He further revealed that players could also stash their drugs in their personal vehicles. The forum user also revealed the location where he found the images - GTA V > x64v > textures > script_txds.rpf > director_editor_title.ytd
The leaked photos below match up with the FLEECA Money Back Guarantee heist mission that was leaked in the audio files.
[READ ALSO: GTA 5: New Heists Revealed in Leaked Audio]
It must be noted that there is no way to be sure of these leaks, and as MrBossFTW says, these images might be the ones that Rockstar originally planned to make part of the game, but did not. Anyone at this stage can only be speculative of such leaks.
(YouTube Courtesy: MrBossFTW)
Another GTA tipster, TezFunz, revealed an image of Coil Brawlers on the prowl, a possible scene of a race or a chase. These images show the ability to customise the vehicle when it lands on GTA 5 Online.
The tipster has also shared an image of new Dinka Vindicator motorcycle with its front view, which could be a social club banner.
There is another picture of a shirtless and tattooed guy chilling out in a luxury speed boat and next to him is bag full of money.
Brawlers everywhere. pic.twitter.com/T2TEVWK7h7

— TezFunz (@TezFunz2) July 5, 2015
#IllGottenGainsPart2 pic.twitter.com/GtaAILzDir — TezFunz (@TezFunz2) July 5, 2015
Soon we will have some information about Ill-Gotten Gains Part 2 Weekend event. pic.twitter.com/WhX48zgEDv

— TezFunz (@TezFunz2) July 5, 2015
(YouTube Courtesy: MrBossFTW)
(Source: iDigitalTimes)