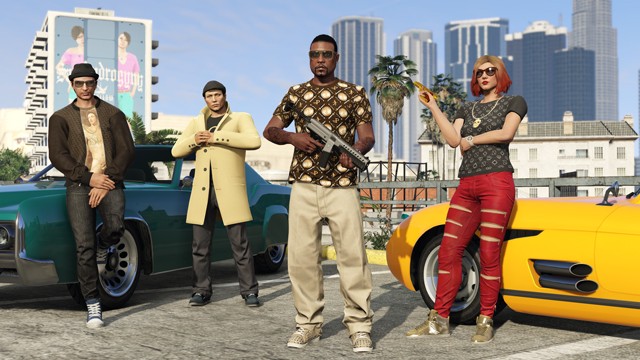 One cannot be removed from the rumours surrounding Rockstar's popular game, GTA 5. Over the past weeks, various speculations have emerged on new DLC. These follow the release of Ill-Gotten Gains Part 1 DLC, early June, that brought in new content but has not been able to satisfy GTA 5 fans, who expected more than a paltry of high-end vehicles, clothes and accessories.
So, now that there will be an Ill-Gotten Gains Part 2, many YouTube users, have suggested the possibility of Rockstar coming out with GTA 5.
Notwithstanding these rumours, a leak of Heist audio has purportedly revealed two new Heists: Drug Flip and FLEECA Money Back Guarantee. YouTube user TurtleeyTY leaked the details.
Below is the write-up provided by the user and we will also present it along with the video that contains the leaked audio:
Heist 1: Drug Flip

Prep mission 1 involves stealing drug shipment trucks from South LS and carrying them via cargobob to El Gordo. Prep mission 2 involves stealing one of 3 riot vans and using it for something later. Prep mission 3 involves ambushing a Merryweather convoy to steal a truck. Finale involves raiding a chicken processing plant, secretly a narcotics distribution center, stealing their shipment, loading it in your truck, and flipping the drugs on the global market.

The missiongiver seems to be blackmailing the players by allowing them to continue their 'business'. However, the heist is sabotaged and the truck's location is exposed. You must take the shipment out of South LS and carry it out of the city via cargobob - you have a Silent or Obvious option, as in Singleplayer.
Heist 2: FLEECA Money-Back Guarantee

Prep mission 1 involves stealing Seasharks from Del Perro Pier, and stashing them in the LS River storm drains. Prep mission 2 involves planting explosives on a few power substations - security guards show up, and must be taken out with stealth. The explosives are fragile, and damaging them may fail the mission. Prep mission 3 involves tracking down a scientist, Melvin Andrews, who's hidden his location with radar decoys. You must find his real location, kill him, and take his passcode before time runs out. Prep mission 4 involves one player taking the role of Casanova, to seduce a bank manager - Joseph Whites - at a nightclub. The player must flirt with him, go back to his place, and 'distract' him - possibly in a Hot Coffee minigame - long enough for your teammates to make a copy of his vault pass and sneak back out. Finale involves blowing the substations to cause a citywide blackout, in order to dash between 4-5 FLEECA banks, robbing them all before the 10-minute timer runs out and the power comes back on. The players must use bikes after the 4th bank, lure the cops into the LS river, then use the Seasharks to escape. For each bank, two players handle hostages, and two players handle the vault. On the third bank, the cops catch on and wait for you. On the final bank, all four players must go inside the vault to steal the money - but the job goes bad. They're locked out of the vault, and must forfeit the final pay. However, they're surrounded by cops outside, and the escape bikes are confiscated. The players must fight their way through cops to a parking garage, where they take another vehicle and continue to the Seasharks, with very little time left on the 10-minute clock. Once on the Seasharks, the players must split up to lose the heat. They escape just in time.
Apart from the above leaks, there are other dialogues that the user terms "strange", arising from a "drunk woman ranting on her failed career as a TV writer in Vinewood."
So, it is not known if these will be added to the game at a later date or if these heists are still in development.
Next DLC to Be Independence Day Update or Ill-Gotten Gains Part 2?
As players wonder about what DLC could be the next, Independence Day DLC or Ill-Gotten Gains Part 2, iDigitalTimes has reportedly argued that GTA 5 fans will have one or the other DLC on 2 July.
Going by Rockstar's own statement that said it will be rolling out Ill-Gotten Gains Part 2 later this summer. The recognised last day of summer in the US will be 23 September. Thus, it could be releasing anytime between now and two months.
Following up on last year's Independence Day DLC, where Rockstar gave away a Sovereign monster truck, a firework launcher and new weapons; it could release a similar one this year too.
But be it the Independence Day DLC or the Ill-Gotten Gains Part 2 DLC, the report goes on to say that there will be one of these by 4 July.
Rockstar traditionally releases its DLCs on Tuesdays, so it could release on 30 June. But once it had released on a Thursday, which will fall on 2 July. This seems to be a perfect day for GTA 5 players as weekend starts the next day, which will allow fans to play the new DLC without any hindrance.
New Car DLC Wishlist
A Reddit user, mjsolt, has posted a new DLC car wishlist that he wants from Rockstar:
Shelby Cobra
Volkswagen Beetle Convertible
The Voodoo
Lamborghini Countach
Porsche Panamera
Ferrari Testarossa
Comet Classic, the 1980s Porche
Super Diamond Drop
Super GT
Modern Cognoscentti, Four door
1964 Chevrolet Impala
1957 Chevy Bel Air Convertible
Other things that are part of the wishlist include Hovercrafts, Yachts that can also act as safehouse, motorcycles with sidecars and more.