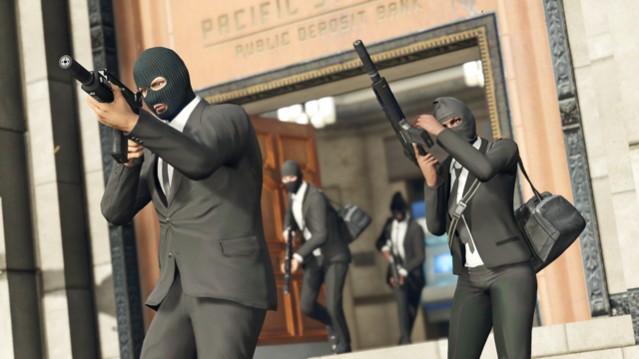 UPDATE:
Rockstar has announced that the maintenance is now over, "Today's maintenance is now complete. Thanks for your patience," it posted on its Support page. The post also shows, that the server stauts of all the consoles in now up and running.
Original Story:
Players who have been facing connection issues after Rockstar released Heists update for GTA 5 Online can be hopeful of getting back into the game without any hitch.
Heists was down mainly due to the heavy traffic and the servers were not able to handle it. Heists was released as promised on 10 March. Fans have listed various issues they faced while accessing the game.
Rockstar has announced that it will be going into maintenance on 12 March at 12:00 AM ET for about three hours. "Grand Theft Auto Online will be undergoing maintenance on Thursday, March 12th at 12:00 AM ET/5:00 AM GMT, for approximately 3 hours," said a Twitter post from Rockstar Support.
"GTA Online, Social Club, and Rockstar Cloud Services are currently down for maintenance, and are expected to return in about 3 hours. Please stay tuned for updates," informed a post on Rockstar Support.

However, some fans have taken the news in a funny way as evident from their comments, with one fan thanking President Obama for spoiling his night, another one asking if heists is out yet, another fan telling people that heists is out on Wii U and PlayStation 2 "right now." One fan was like he hates Rockstar Support "sometimes". Another started badmouthing Rockstar since it was his day off and he wanted to play Heists.
But the people will be happy that the game is likely to be fixed after the maintenance.
Rockstar had previously promised that it will be restoring the game and was aware of the issues with Xbox Live service.
Characters Changing Gender Now Resolved
Following the Title Update 1.21 for PS3 and Xbox 360 and 1.07 for PS4 and Xbox One, Rockstar has said that it has resolved the issue where characters were changing their genders or appearances.
Rockstar Support has asked players facing issues to follow the steps below to restore the original character appearance:
Enter GTAV and load into Story Mode
Pause the game
Highlight the "ONLINE" tab
Choose "Choose Character"
Select your affected character
Once you re-enter GTA Online, your original character appearance will be restored.
It also added that if players are still experiencing issues after following the above steps, they can submit a request for assistance.