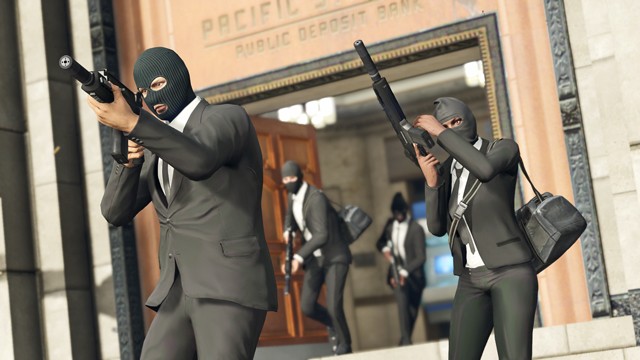 The surge in traffic created by the release of Heists update for GTA 5 Online killed the excitement of many players as reports of connection issues and servers going down started surfacing.
The pressure on the game servers was too much for Rockstar, but the developer posted that it is working on the issue and promised a quick restoration of the servers. The GTA Online servers on all the platforms however say that they are up and running.
In the post on its Support page, Rockstar said that it was aware of the issues, "...with players having problems connecting to GTA Online, as well as issues with the Xbox Live service. We are working to restore full access to GTA Online as quickly as possible. In the meantime, please stay tuned to this page to monitor the performance of all platforms."
Note: GTA Servers on all platforms is 'UP.'
GTA Online server Status is now "UP." You can all play the new HEISTS, #GTAOnlineHeists pic.twitter.com/T4u8wsO2JM

— GTA News (@GTAonlineNews) March 11, 2015
Players have been facing issues on all the platforms that Heists update were released on. Rockstar had previously faced server issue when the Online Mode was released in October, 2013. Some players had to face downtime on both PSN and Xbox Live servers. Xbox Support tweeted saying it is working to fix the signing in/matchmaking issues. The Xbox Live Status shows 'Limited' services on Xbox 360.
Seeing issues with signing in/matchmaking on the Xbox 360 console? Don't worry our teams are on the case: http://t.co/99xfLMWcZW — Xbox Support (1-5) (@XboxSupport) March 10, 2015
Players have demanded Xbox Live to be fixed at the earliest.
The PlayStation Network Status currently is showing that it is 'Online'
List of Issues Fans are Facing
List of Issues faced by Players after the Heists Update (via Reddit and Twitter):
Driving stats getting reset
Sending invites is disabled
Unable to spawn in apartment
Lester not Working (Troubleshoot this by going to the Dashboard, Search for GTA Heists and Download the update seperately)
PS3 Heist update keeps stalling
Character changing from Black to White
Heists Missions are locked after update
For those with GTA Online connection issues, we're working to restore full access as quickly as possible. Updates at https://t.co/ardvFFNqmX

— Rockstar Support (@RockstarSupport) March 10, 2015
Troubleshooting Steps from Rockstar
Rockstar is fully aware of the issues troubling players and has provided some fixes concerning the Heists update for GTA 5 Online on their Support page:
For those with connection issues and error messages, Rockstar said that some player had success after they changed their, "NAT setting to OPEN or connecting the console directly to their modems using a wired connection, bypassing the router entirely."
Troubleshooting for Xbox 360 and Xbox One:
You can test your connection through the following option in the dashboard:
For Xbox 360:
My Xbox > System Settings > Network Settings > Test Xbox LIVE Connection
Selecting "more info" after the test will tell you if you have open, moderate or strict NAT type.
For Xbox One:
Settings > Network
Your NAT type will be under "Current Network Status"
The NAT types can be one of the following:
OPEN; Can play games with any other NAT type.
MODERATE; Can play games with open or moderate NAT types.
STRICT; Can only play against open NAT types.
Xbox Live requires the following ports to be open:
Port 88 (UDP)
Port 3074 (UDP and TCP)
Port 53 (UDP and TCP)
Port 80 (TCP)
Port 500 (UDP)
Port 3544 (UDP)
Port 4500 (UDP)
Troubleshooting for PS3 and PS4:
You can test your connection through the following option in the XMB:
On PS3: Settings > Network Settings > Internet Connection Test
On PS4: Settings > Network > Test Internet Connection
This will inform you of your NAT type:
Type 1; The most open of NAT types: connected directly to the internet without router.
Type 2; Similar connectivity as Type 1, except connected to the internet via a router.
Type 3; The least open of the NAT types.
The post also asked players to check if the router's firmware is upgraded to the latest version.
Heists update is one of the most awaited features that had been delayed several times. It has previously said that the delay in bringing it out was due to the fine tuning the feature by Rockstar. However, Rockstar's silence on the matter angered many fans. Heists was finally released on 10 March, 2015.
We will keep a track of the updates from Rockstar and will keep readers posted as soon as there is new information.