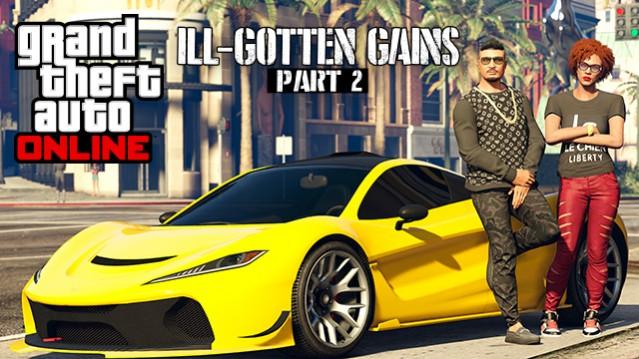 Following the release of Ill-Gotten Gains Part 2 DLC, GTA 5 Online players are waiting for the next DLC that according to rumours and speculations could be Low Life DLC.
There has been no official credence to such rumours apart from GTA Forums and Reddit threads. But nothing can be nullified yet.
As far as Rockstar is concerned, it had made known that it was working on its next update, which is a fan request to have something like Stunt Races in GTA 5. The company has said that it is working on it and will roll it out as soon as it is ready.
Below are some of the things that YouTubers have been discussing about:
List of Confirmed Items from Rockstar
YouTuber and GTA tipster, MrBossFTW shared a video about the confirmations by Rockstar so far, they include –
More Double RPs and Double GTA money Heist Events Incoming
In the recent Newswire stories, Rockstar, while giving out tips on how to play, has also included the possibility of having more such events when it subtly hinted, "Look out for more GTA Online Heist game tips coming soon here at the Newswire."
Rockstar Editor for Next-Gen Consoles
Previously, Rockstar had promised that PS4 and Xbox One owners will be getting Rockstar Editor when they play GTA 5. It had said that it will be releasing it whenever it is ready or in the summer. But no release date has been announced.
DLC content for Creator Community
Rockstar had promised that it will be bringing some "epic DLC content" for Creator Community. One of the features is supposed to include Stunt Races. It was working on a request from fans who wanted the company to, "enable creators to properly stack props, adding proper support for that highly-requested feature powering super fun mega-ramps, loops and parkour courses."
So we can expect a Stunts Academy or a Stunts DLC. They have not mentioned any particulars of the content and have only mentioned "future update."
"Other cool updates" Coming
Rockstar has also promised new content during the Q&A from fans saying that there will be "other cool updates" for GTA 5 Online.
MrBossFTW acknowledges that there have been some rumours about the Low Life or a poor man's DLC that Rockstar might offer.
Will there be Ill-Gotten Gains Part 3 DLC? Rumours Suggest Low Life DLC
MrBossFTW has shared a video, debunking theories suggesting the possibility of Ill-Gotten Gains Part 3 DLC. He speaks about how the rumour of Ill-Gotten Gains Part 3 DLC was spread by YouTubers. But he says with a tone of confirmation that there cannot be a part 3 of the Ill-Gotten Gains.
We know that until now, Rockstar has given out two parts of Ill-Gotten Gains. It had clearly stated in a post soon after it released the first part that there will be a second part that will be released later in the month. But the company did not mention anything about Ill-Gotten Gains Part 3 when they posted about the release of Part 2 of the same.
It was not in their agenda as such. It has been a two-part DLC and that is the end of it.
But some fans in GTA Forums and another tipster, FUNMW2, speculated that Rockstar has already thought about its next DLC. They also said that the DLC could be in the middle of development when Ill-Gotten Gains was released.
Speculations that the next one will be a Low Rider or a Low Life DLC have also surfaced online. That will be the opposite of Ill-Gotten Gains, a poor man's DLC.
We can only wait and watch for what Rockstar has on offer.
Secrets about Franklin Revealed
YouTuber DomisLive has shared a video detailing the life history of Franklin of GTA 5. Franklin, one of the three characters in GTA 5 was born in 1989 in Los Angeles. Both his parents were cocaine addicts. He had heard that his father was abusive to his mother and left her even before little Franklin came out in to the world. These factors increased his mother's addiction to cocaine, leading to her eventual death. Her death forced him to move in with his grandparents.
He met Tonya Wiggins and J B Bradshaw with whom he became friends with. Though spoiled by his grandparents, he goes on to become a street hustler. He starts by selling cigarettes. However, is caught by his grandfather. There are pictures of him when he was young with a basketball. He attended Davis High School with Lamar Davis, Tanisha Jackson and Tonya Wiggins. Before long, he was expelled from the school.
He started his criminal life by involving in carjacking and small-time bank robberies. His first bank robbery did not fetch him anything due to a stupid mistake by his accomplice.
In 2008 he was arrested, marking the end of his petty crimes. After his release, he turned his back on crime and wanted to live like a normal person, with a job.
This was the time when Franklin and Lamar were working for Simeon, who had a car dealership business.
Casino DLC or Low Life DLC - Q&A Session
Fans have posted questions to DomisLive, as he tries to answer them and give his perspective.
Which is the preferred most ­– Casino DLC or Low Life DLC? He answers that he would prefer Casino DLC as it could bring more content to GTA 5 than Low Life DLC.
Are fans acting prematurely or will Rockstar roll out Hydraulic Cars? Calling it a tough question, he says that there is a 60 percent chance of the company adding hydraulic cars. He even tells Rockstar to not give cars without hydraulics.