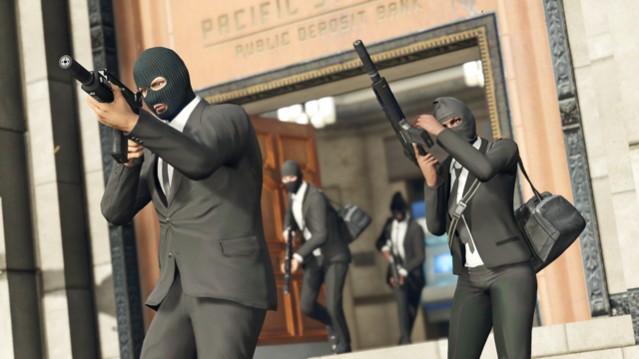 Rockstar's recent Heists update for GTA 5 Online has now got everyone wanting for more. However, the developer has kept them all busy playing some of the most amazing Heist challenges. Rumour also has it Casino and Gambling DLC have surfaced.
The release of Heists update was however dogged by some server and connection issues, which were later fixed by Rockstar.
Below are some of the new discoveries made by players on the new Heists update for GTA 5 Online:
Funny Police Mask Glitch
YouTube user TwoDynamic has posted a video that details how to get a secret police mask in GTA 5 Online following the Heists update. This glitch will allow players to wear a mask with the police uniform and the hat.
This glitch requires players to already have a police outfit saved in the Outfits Saved section. If players do not have it, then they can try it here. Once the saving process is all over players have to backout and pull out the Interaction Menu head to Accessories and choose any of the masks that is available here.
Now once the mask is selected, go back to the outfits section and save the current cop outfit with its mask on as Outfit 2. So now you will have two saved outfits – one police outfit with hat on and another police outfit with the mask on.
Now change into the police outfit with the hats and get yourself a motorcycle. Hop on to the motorcycle but do not move. Now put the helmet on top of the police hat.
Once you have put the helmet, get off the motorcycle and you must be also quick to pull out the Interaction Menu as you get off the motorcycle. From the interaction menu go to Accessories > Outfit and now switch to the outfit that had the mask. Now wear this outfit. Players will now see the glitch kicking in if they got it right. They will see the first and the second outfit merging with the character now wearing police outfit with mask and the police hat.
Invisible Glitch
YouTube user, Madgaz Gaming has shared a video that shows players how to make use of the invisible glitch.
Players have to enter their apartment and then go to the dressing room. In case they do not have the requisite clothes, they have to buy them. For this, they can go to Change Clothes, which is on the D-Pad, go to Clothing > Tops > Suits Jackets > BlueScruffy then go to Shirts > put on Red Untucked Shirt
Change into Blue Scruffy Suit Jacket and Red Check Untucked Shirt
Bring Up your phone and select quick job and select a random job and activate it
Quickly Bring up your phone again and select a job from the job list (must be a GTA character job) and activate it
Quickly Press right on the D-Pad to go into clothing editor
Go to suits and hover over any suit jacket that makes your arms disappear
Wait until the job loads up and back out of it
Now go to clothing editor again
Put on the Black heist vest
Then go back into that menu and select no vest
Now players will see that their character is invisible in the top half
Guide to Make Quick Money
YouTube user TwoDynamic has posted a video that details how to make quick money in GTA 5 Online after the Heists update.
This method has been existent in the game for sometime. It keeps getting patched but as per the video it has been left unpatched this time around. Note that this will allow players to make millions of GTA money but as a single player.
Some of the prerequisites of this exercise include – players need to be in a crew and players need to have some money before they make millions.
Load into an online session > press Start > Online > Challenges. This section will show a list of some recent challenges and players will have to search for the challenge that has a bet of 250,000. If players do not see such a challenge then they are asked to back out and enter again after some time since these challenges are random.
Once players have such a challenge they have to go and hit the 250,000 challenge. But players will have to front the money to play this, but if they do win the challenge within the stipulated time, they will double it to 500,000 in a matter of 3 minutes.
The challenge played by TwoDynamic is called is Criminal Records where the player has to beat the race under the stipulated time limit. This will win players 500,000 since this is a easy and beatable race. This process can be repeated several times
Funny Moments in GTA 5 Onlline Heists
YouTube users VanossGaming have compiled string of videos that are funny and we can see the users giving the voice overs too. Check out these funny videos lasting 14 minutes.
(YouTube Courtesy: VanossGaming)