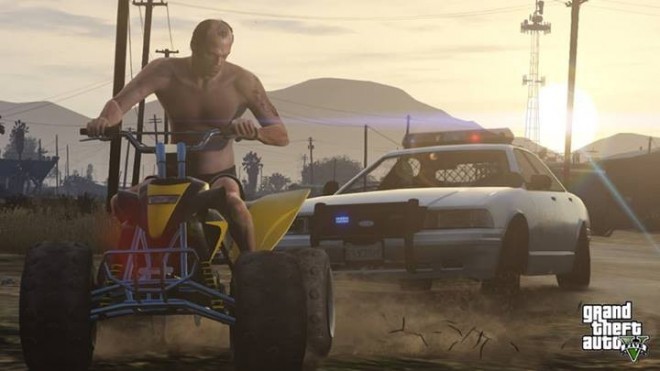 Rumours of San Andreas Flight School DLC that was reported earlier has come true, as Rockstar has announced the new update on its official Rockstar Newswire for GTA 5 Online. San Andreas Flight School update will be releasing on 19 August 2014.
Adding to the new-found excitement of GTA 5 players, this update will be adding a variety of vehicles and content.
"Starting tomorrow, enjoy the thrill and exhilaration of being a patriotic hero with the San Andreas Flight School Update for GTA Online," said the post on Newswire. Without providing details on the content matter, it said that players will be receiving, "a collection of new air and land vehicles, aerial solo challenges, and much more."
Rockstar also promised that it will be introducing, "a host of gameplay changes to GTA Online – these include increased payouts for harder to complete missions and GTA$ bonuses for playing missions with other." This will mean that San Andreas Flight School update will also boost balance tweaks.
The news post has also added a trailer that is likely to kick in some gamer adrenaline. The trailer introduces the player to the San Andreas Flight School, where the flight instructor at this facility is JG Boyd, a retired Marine.
New Air and Land vehicles seen in the trailer :
Close to what was revealed leaked recently by YouTuber Chr0m3xMoDz, the trailer shows us,
Single engine Fighter Jet
Medium Transport Jet
Helicopter
Cars and Fast Bikes
It also shows in-game characters parachuting with patriotic parachute bags that contain the flags of various countries, players will get to choose. New cars will mean new car races.
(YouTube Courtesy: Rockstar Games)
Previously, the rumours had suggested that the San Andreas Flight School DLC for GTA 5 Online will contain air-based vehicles like Hydra Jet, Western Besra, Bukingham Mil Jet and Inverto Corquettte. It was also said the new content might have Flight Suites, 10 solo missions, reserve parachutes and parachute bags.
Since its launch in September 2013, GTA 5 has shipped more than 33 million units. It is presently available only for PlayStation 3 and Xbox 360 but during the recent E3 2014 event, Rockstar announced that the PC, PlayStation 4 and Xbox One versions are also in the making. It has been speculated that these versions will be available during the Holiday Season.