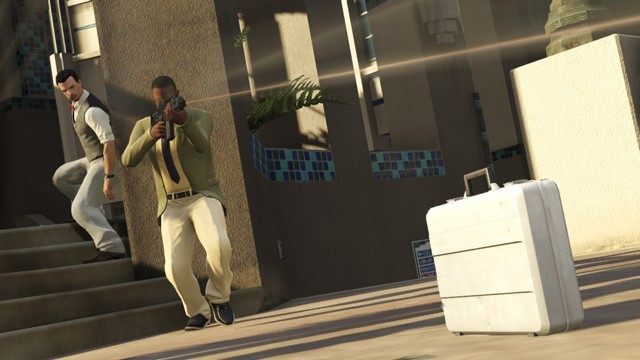 Rockstar revealed recently that some updates might not be technically possible for PlayStation 3 and Xbox 360 versions of GTA 5 in the future.
Currently, Rockstar is providing support for GTA 5's PlayStation 3 and Xbox 360 versions, which was initially released on these consoles. The company, however, said that it can only promise future updates to next-generation versions , Ps4 and Xbox One, and PC version of the game.
The company answered some of the questions in Asked & Answered feature. When a fan asked if the last-generation players will be left alone? Rockstar said it will not be leaving them in the cold and pointed out that it had rolled out the new Christmas DLC and will also be bringing Heists DLC for PlayStation 3 and Xbox 360 versions. But some features like the first-person mode will not be possible in the last-generation due to them not have the requisite technology.
"We are incredibly thankful to our original generation of GTA V and GTA Online players on those systems and wish to continue providing content to them for as long as we can," Rockstar said.
"Of course, at some point in the future, there may be a point where we reach the limits for the previous generation of consoles as there may be some updates that are only technically possible on the new hardware--but we do hope to continue delivering as many updates as we can for all four consoles for as long as possible," it added.
It also said that since the first-person mode has "thousands of new animations" and last-gen consoles will not be able to support them due to memory constrains. Even if they are added, it said that it will "seriously" compromise with the game in "some other capacity."
The company also answered a question on how the PC version of GTA 5 is coming around. "We're presently in the final stages of development on the PC version of Grand Theft Auto V and hope to have confirmed official system requirements to share soon here at the Newswire, please stay tuned for that to be announced in the coming week. Thank you and we're very excited to bring GTAV to the PC gaming community."