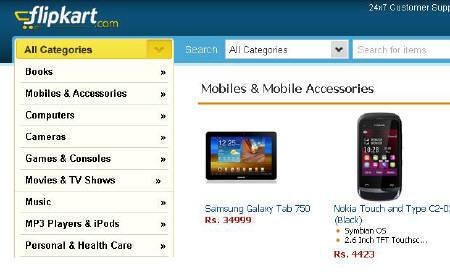 The fast-growing e-commerce sector in the country is likely to witness a setback, as the costs for online retailers such as Flipkart and Snapdeal are likely to increase by 10-15 percent once the government's landmark goods and services tax (GST) Bill comes into effect.
Industry watchers say that the e-commerce sector, which is already seeing high cost pressures, might be impacted more in comparison to other sectors once the GST is implemented.
"The working capital needs of the e-commerce firms would go up after the GST comes into play as the burden of tax on stock transfer would go up," Prashant Deshpande, senior director at Deloitte Touche Tohmatsu India, told The Economic Times.
Recently, the government was forced to delay the landmark GST Bill until at least July, after facing strong opposition in the Rajya Sabha.
The Modi government plans to implement the GST from April 2016.
According to the GST bill, the e-commerce firms or their vendors are liable to pay the tax for the goods hoarded in their inventories. As it would take a few months for them to clear goods, the tax levied before the goods are sold is likely to increase the working capital of the firms.
"So, while now the firms are paying around 12.5% of excise duty before the stocks are transferred, in future they would have to pay the GST rate which would be at least 8-10% more than excise duty," he said.
Online retailers such as Flipkart and Snapdeal have already been criticised by many industry trackers for their skyrocketing valuations and huge discount strategy. None of the domestic e-tailers have turned profitable since their inception despite a multi-fold increase in revenues.
Many e-commerce companies are already taking advice from tax experts to deal with the problem.
Experts say that the firms should cautiously manage their warehouses and abstain from transferring of goods across states as it would result in more taxes.
The current delay in passing the GST Bill might be short-lived relief for the online retailers, as the government remains firm to implement it.
"Nobody should get a thrill by delaying GST," Finance Minister Arun Jaitley said on Thursday.