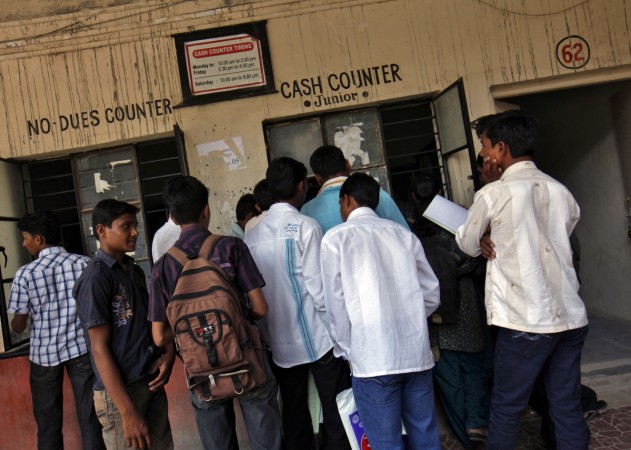 The Gujarat Secondary Education Board (GSEB) has announced the Class 12th (HSC/XII) science 2016 results at 4:00 pm on May 17, while Class 10th (SSC/X) will be declared on May 24.
The GSEB will announce the HSC and SSC exams on its official website (Click HERE to see the results). But student eagerly waiting for the results of HSC and SSC exams 2016 were shocked to see a weird message when they logged onto the website on Saturday. The website was hacked by some miscreants, sources from the GSEB confirmed.
The hackers reportedly left a message on the site, mocking its security. "The hackers mocked the security of the website. They wrote on the site: 'Nothing Deleted. Security 0%, Stupidity 101%. Just a security reminder'. The message was accompanied with a wicked smiley," officials told Ahmedabad Mirror (AM).
Soon after they received complaints, board officials reportedly addressed the issue and shut down the website till the problem could be addressed. AJ Shah, the chairman of the GSEB, confirmed the news about shutting down the website after its hacking on Saturday morning. "We have closed down the website. As per the procedure, we will be filing a complaint with the police," Shah told AM.
The news has led to speculations among students and parents on whether the results would be delayed. GSEB officials do not want to disappoint the students and are now reportedly working on removing the loopholes in the security of the website. Meanwhile, Shah has made it clear that the hacking of the website would not delay the results, which would be announced as per schedule.
Shah has confirmed that the GSEB would declare Class XII Science results on May 17 and Class X results on May 24. But the board is yet to finalise the date to declare the results of the Class XII general stream. "These two results have been decided but the date for Class XII general stream is not yet finalised," the Indian Express quoted the GSEB chairman as saying.
The officials of GSEB have been successful in clearing the loopholes in the security of its official website, which began working fine on Monday evening. The site showed that the HSC results would be declared at 4:00 p.m. on May 20. "Results will be available on 17th May, 2016 after 4 p.m.," reads the message on the website.
Sources from the GSEB say it would declare the Class XII general stream results within May itself. The sources added that the results this year are being declared early as compared to previous years. The board had announced the results of the Class XII Science stream on May 28, General stream on May 30 and Class X on June 4 in 2015.