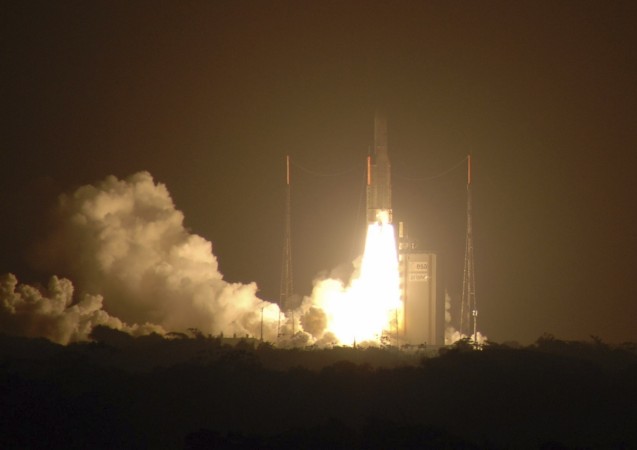 Prime Minister Narendra Modi has applauded the scientists of the Indian Space Research Organisation (ISRO) for successfully launching the country's communication satellite, GSAT-16, early on Sunday morning.
"Kudos to our scientists for the successful launch of GSAT-16. The communication satellite will become a major asset for our space programme," Modi said in a tweet.
Having a lift-off mass of 3,181.6kg, GSAT-16 was successfully launched at 2:10am on 7 December onboard Ariane 5 VA221 rocket from the spaceport of Kourou in French Guiana.
The satellite has been injected into Geosynchronous Transfer Orbit and ISRO mentioned in its tweet that it is in good health. The organisation's Master Control Facility (MCF) at Karnataka's Hassan has taken over the control of GSAT-16 from here, according to a PTI report.
The MCF will now start the programme to place the satellite in the Geostationary Orbit, before which GSAT-16 will pass through three levels.
The orbit of GSAT-16 will be first raised at 3:50am on Monday, 8 December, ISRO tweeted.
The second and third orbit raising operations have been scheduled for 9 and 10 December respectively.
"Almost 66 per cent of orbit-raising will be covered in the first manoeuvre. By noon [on December 10,] the third orbit-raising will be over and we have to deploy the solar panel and antenna. That is a crucial day," ISRO chief Radhakrishnan told The Hindu before the launch.
After crossing three levels of orbit raising, the satellite will finally be placed into the geo-stationary orbit of about 36,000km altitude by 10 December.
After GSAT-16 will be placed in the Geostationary Orbit, "satellite's communication transponders will be switched on for in-orbit testing." Thereafter, it will replace the INSAT-3E, which expired in April this year.
GSAT-16, having a national space capacity of 48 transponders, will be used by television, telephone, internet, public and private operators.