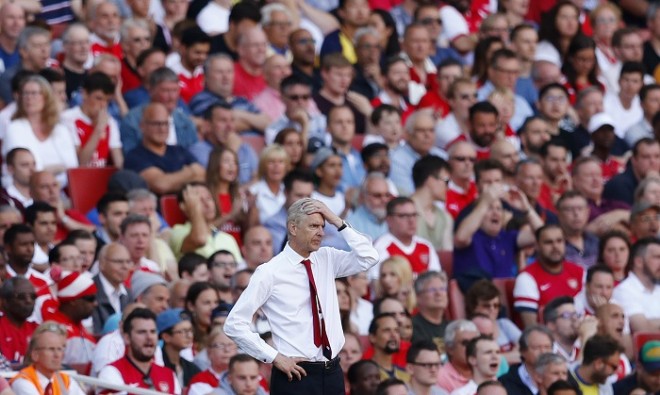 Groundhog Day, it is a not that bad a feeling if what you keep coming back to is a happy moment, and then there is Groundhog Day for the Arsenal fans.
What is worse than a club standing still is a manager and a board, flush with cash flowing out of every pocket, that refuse to admit it, identify it and do something about it. Of course, if they did admit it and understand it, then Arsenal as a club would have stopped standing still a long time ago, but as long as there is an owner at the helm who has gone on record saying it will be stupid to let go of a manager who delivers Champions League football time and again; as long as there is a chief executive who makes public comments, not once, but many times, saying Arsenal, one of the richest clubs in the world, cannot compete in the transfer market; as long as there is a manager who refuses to buy players to strengthen the team even if when it is obvious for even an amateur that the team needs quality bodies in, Arsenal as a football club will stand still.
The evidence of that was there for everyone to see on the opening day of the Premier League season. Once Per Mertesacker fell victim to a long-term injury three weeks ago, Arsenal needed to go out and look for a quality replacement, because Wenger knew that Laurent Koscielny would not be ready in time for the new season, while Gabriel and Calum Chambers still have a lot to learn if they are to man that backline consistently. Wenger brought in a 20-year-old defender -- with plenty of promise, yes, but with plenty to learn as well.
And then Gabriel, the serniormost centre-back who would have been fit enough to start the season, suffered an injury in Arsenal's final preseason game. Wenger had a full week to bring in someone, but that dilly-dally he is so famous for meant no defender came in, even if all Arsenal had to do was understand the demands of the current transfer market, make peace with the fact that it is inflated and there is nothing to be done about it and pay the amount necessary to bring someone in, be that Shkodran Mustafi or someone else.
Instead, there was no new signing, and Wenger decide to start with a centre-back partnership of Chambers and Rob Holding, who have a combined age of 41. The manager's argument that none of the four goals scored by Liverpool were down to the fact that two young centre-backs played does not cut any muster, purely because of the fact that a club of Arsenal's ilk should not find themselves in such a position, especially when the transfer window is still open.
Nobody is saying signing a Mustafi would have guaranteed an Arsenal win, but it would have improved their chances, brought in a bit more belief in the squad, knowing that, even if Holding and Chambers had started, there was someone there, and that is what new signings do, they bring belief and competition into the squad.
Wenger might yet make a couple of moves in the transfer market in the final week of the transfer window – his favourite time – however, going by the change in the manager's tune to "we will only buy if we find the right quality" from "we are in the market for a forward and a defender" most Gooners out there are likely to have little to no hair and absolutely no fingernails by the time the August 31 deadline day passes by.
The Groundhog summer of "every other club buying quality players, while Arsenal just sit back and do little to nothing, before losing their opening match of the season – the Gunners have lost three of their last four openers – only to then go on a bit of a run to appease the fans for a while, before being found out again," shows no sign of abating, and for a club of Arsenal's stature, that shouldn't be happening, definitely not as often as it does.