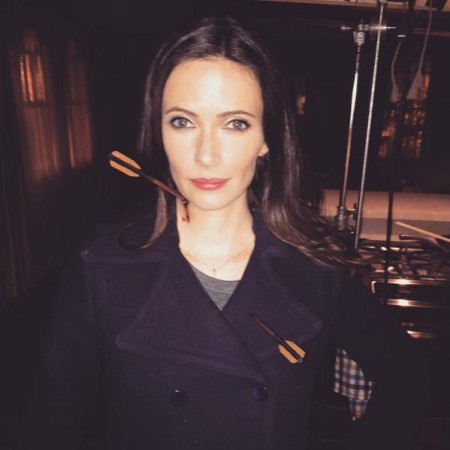 When "Grimm" returns on NBC with season 5, it is likely to revolve around Juliette Silverton's (Bitsie Tulloch) revenge on Nick Burkhardt (David Giuntoli) and Trubel (Jacqueline Toboni).
Actor David Giuntoli revealed that the filming of "Grimm" season 5 will begin shortly. "2 weeks until we start filming season 5 of @NBCGrimm . It's going to be a wild one," he tweeted.
Meanwhile, actress Bitsie has uploaded her photo on Twitter showing arrows on neck and chest with the caption "Just a flesh wound!" Although the celeb wrote in bracket "Just kidding", the image and title indicate that the character has not died in the series and will be back for retaliation.
The post immediately captured the attention of many Grimmsters who assumed that the celeb will reprise hexenbiest again. The messages ranged from "Lol I sure hope Juliette isn't gone for good although I liked the #HexenMeanie woman too!", "Many ppl think you're home for good because your character died. But I think they're incorrect", to "We dk if there was anything on the darts... & if Julliette was dead then wld @BitsieTulloch still be Tweeting for @NBCGrimm ?"
In the meantime, some Bitsie fans were not impressed with the joke. They wrote: "dont joke with it", "Now you're making me sad", "If Juliet Dies Im Holding You Responsible For My Tears" and "that's not funny I'm crying all over againthey better bring you back!"
However, some of her followers hoped to see her back in the crime procedure drama and tweeted: "Bet it's a real pain in the neck?", "I hope it all was a bad dream!" and "I keep hoping it was just a dream...and one of the characters is going to wake up."
Last week, the celeb hinted at her character's future by posting a photo of hers on Twitter. The image, which shows Juliette in jail, was captioned "Probably should have stayed behind bars".
According to a recent poll conducted by International Business Times, 57% of Grimmsters believe Bitsie will reprise her role as Juliette in season 5, while 43% said that she is gone for good.
Here are some fan messages on Juliette's return:
Rick
Leave her dead -- she was boring -- but -- if she must come back, use Henrietta's body to make same potion that Adelaide drank to reduce/control Juliette's powers -- and -- let her be pregnant with Kenneth's baby!
Michelle
I hate her character I always have! She returns im not watching! They killed her off and they need to keep her dead most grimm fans don't want her back either!
Pen
Grimmsters want her back! Like Adalind, she could still be changed and go back with her real character. Im so excited to see her in the first episode of Season 5. October, here we come!
Beth
I want back Juliette to on the show and she stays a Hexenbiest, because it is the exciting!