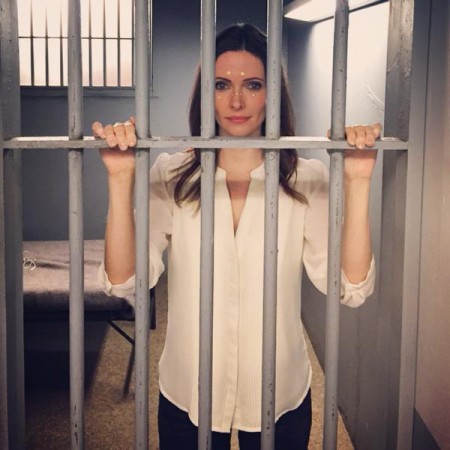 "Grimm" season 4 ended with an unexpected twist: series regular Juliette Silverton's death and executive producers James Kouf and David Greenwalt's statement that the character will not be part of season 5. But actress Bitsie Tulloch is optimistic about Nick Burkhardt's (David Giuntoli) girlfriend.
The celeb hinted on her character's future by posting a photo of hers on Twitter. The image, which shows Juliette in jail, is captioned "Probably should have stayed behind bars".
The post immediately captured the attention of many Grimmsters who started enquiring about her role in season 5. The tweets ranged from, "I wonder what is going to happen with Juliet on the next season of Grimm hmm", "Arg why wouldn't you let them save you? Bummer to see you go", to "r u really done?"
However, this is not the first time Tulloch is teasing about her character's return in the series. While interacting with fans last week, the celeb had expressed her wish to be back on the show. When one of her fans asked, "Bitsie, are you not coming back? If you want I do a nude protest in front of nbc wearing only a hexenbiest mask," she replied, "I want".
If the picture of Juliette in jail can be linked with the final scene of police drama that showed Special Agent Chavez (Elizabeth Rodriguez) entering the detective's house with a set of police force and screaming "Get Her", it can be assumed that the character could be handcuffed in the premiere of season 5.
But creators have not yet confirmed whether Juliette will be part of season 5. While Kouf said, "possibly not", Greenwalt revealed, "looks like it". According to them, "it keeps everyone on edge and anything could happen."
"It seems like a few shows, episode whatever, they get married or they finally get together. We decided to go a different way," said Greenwalt, adding, "I think it's going to be even darker still in a way. You know, it's not going to be the same Grimm."