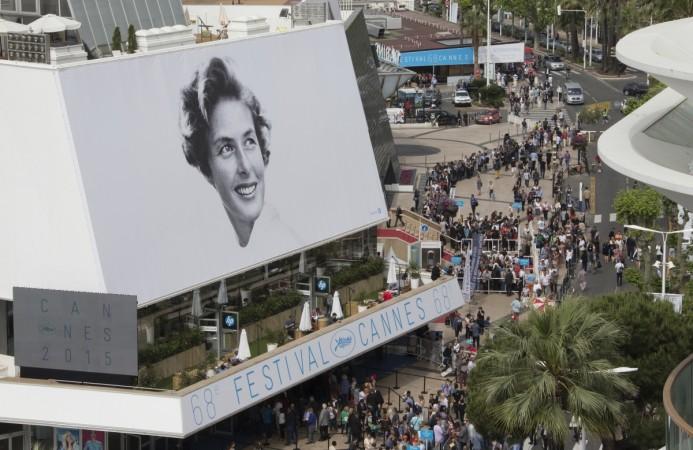 Cannes 2015, which began on 13 May, witnessed several surprising and shocking incidents during its seven day journey.
The 68th Film Festival kicked off with a French drama, directed by popular actress Emmanuelle Bercot, which received massive appreciation for its efforts to highlight the role of women in the movie world.
But the event got entwined in a controversy after several reports suggested that women wearing flat shoes, including an amputee, were denied entry to the red carpet.
Meanwhile, several celebrities, including Catherine Deneuve and Salma Hayek, used the platform to share their opinions on trending topics, such as gender inequality in Hollywood and social media penetration in celebrities' lives and its impact on the entertainment industry.
A look at the controversy, opinions, and revelations in the seven days of Cannes 2015:
Revelations:
Denis Villeneuve: French-Canadian film director revealed that screenwriter Taylor Sheridan was asked to change the lead character for his latest war thriller from a male to female. "The screenplay was written some years ago and people were afraid that the lead part was a female character, and I know several times [Taylor Sheridan] had been asked to rewrite the role. When I got involved, the script was as it is, and I embraced it, as did [producers] Black Label and Thunder Road. But the pressure came before, and these guys had the guts to keep it as it was," he told The Guardian.
Tom Hardy: The English actor stated that he was angry with "Mad Max: Fury Road" director George Miller for almost seven months of the production process because he had no clue about what he was trying to do. "There wasn't a day when I didn't think, 'You're crazy doing this'. I knew it was brilliant but I didn't quite know how brilliant until I saw it. My first reaction was to apologise for being so grumpy. I love George and I felt I owed him an apology," he said.
Cate Blanchett: While attending Cannes International Film Festival, the popular Australian actress clarified her previous comment about sexual relationship with women. "From memory the conversation ran: 'Have you had relationships with women?' And I said: 'Yes, many times. Do you mean have I had sexual relationships with women? Then the answer is no.' But that obviously didn't make it," she said.
Michael Caine: The veteran actor, who attended the film festival after 49 years, revealed the reason for taking up the role of a retired composer in Italian director Paolo Sorrentino's film "Youth". "The only alternative to playing elderly people is playing dead people. So I picked elderly people," he said.
Opinions:
Catherine Deneuve: During the opening ceremony of film festival, French actress revealed that the widespread coverage celebrities receive through various social networking sites didn't enable people to dream anymore about these people. "The private lives of actors and actresses are displayed all over the globe. Being a star entails glamour and secrecy. You have to keep something for yourself. You shouldn't display everything of your private life," the actress said, The Independent reports.
Salma Hayek: Popular Mexican and American actress shared her thoughts about gender inequality in Hollywood when she appeared in the UN Women panel. "We can't stand as victims and say we need to make them aware of women. It's simple, plain ignorance. They think the only value we bring to a movie is as an object. The only kind of film where women make more money than men is porno. It's not funny. We have the power to show them we can save this film industry," she said, according to Telegraph.
Controversy: Cannes International Film Festival faced flak after reports claimed that a group of women were denied entry to popular independent filmmaker Todd Haynes' movie "Carol". Although Cannes' director Thierry Frémaux claimed that high heels are not part of the dress code, several celebrities, including British film maker Asif Kapadia and Film producer Valeria Richter, revealed that women in flat shoes were turned away from the red carpet.