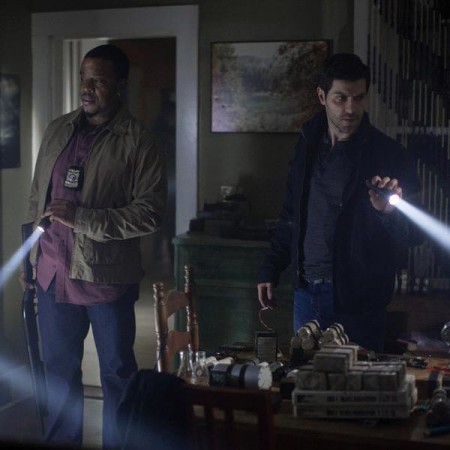 Detective Nick Burkhardt (David Giuntoli) and his partner Detective Hank Griffin (Russell Hornsby) are up for a shocking surprise when they find about a certain mythological lake monster that has murdered a tourist in Episode 8 titled "a Reptile Dysfunction" of NBC's "Grimm" Season 5.
CLICK HERE to watch what Nick and Hank will do once they track the monster and whether they will be able to restrain it or not.
The synopsis by TV.com states that a secret government agency takes Nick into the heart of their Portland operations centre.
At the same time, he and Hank investigate the possibility that a famous lake monster is responsible for the death of a tourist.
Elsewhere, Rosalee's past comes back to haunt her and Capt. Renard continues to support a candidate for mayor.
The agents at the classified government agency bombard Nick with questions and he eventually realises that they suspect his past. Nick carefully answers all their queries and the agents are left with no other option than to reluctantly let him go.
However, it seems his troubles have just started. The moment he comes back, Detective Hank informs him about a mysterious case of a murder where a tourist was found dead near a lake. A man, who claimed to be the eyewitness, said that the tourist was killed by a gigantic monster that emerged from the lake.
Though most of the police department thinks that the man is crazy, Nick and Hank know better and they decide to investigate the case and look into the matter more closely.
In the previous episode titled "Eve of Destruction," The surprise return of "Juliette" sent Nick on a quest for the truth while Trubel had information that could have been of some significant value.
Elsewhere, Monroe and Rosalee turned to the Wesen Council for answers as the uprising escalated.
"A Reptile Dysfunction" will air on 5 February on NBC.