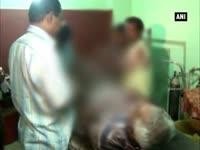 At least two people were killed and three injured in a grenade blast in upper Assam's Sibsagar district.
The grenade was reportedly thrown at famous businessman Biren Agarwal's residence on Friday, at around 8.45 am. The house is located at JP Road in the Sepon Market area.
Agarwal's younger brother Situ Agarwal and his driver Dimbeshwar Bhuyan were killed on the spot.
On receiving the information, Superintendent of Police Bijoy Kuligram rushed to the crime scene immediately.
The incident is being touted as a terrorist attack, PTI reports.
According to the locals, the forbidden ULFA-Independent may be behind the act as the group had earlier demanded extortion money from the family, but they had refused to pay. The banned group is also reportedly very active in the area.