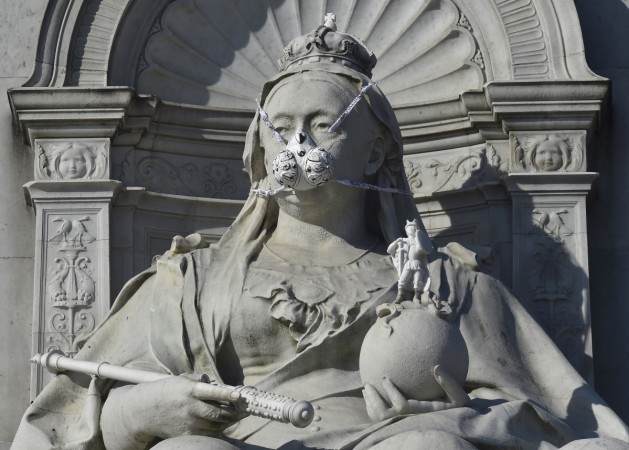 Greenpeace, United Kingdom registered its protest against the rising air pollution level in the U.K. by climbing major landmark statues in London and placing gas masks on them on Monday. Eight activists of the pro-environment non-government organisation were arrested, according to the Telegraph.
Two of the activists, Alison Garrigan and Luke Jones, were arrested by the police when they climbed down the statue of Admiral Lord Nelson in Trafalgar Square, after staying atop the 52-metre monument for a few hours. The two had scaled the statue at dawn, the Guardian reported.
"Police in Westminster were called to Trafalgar Square at 04:11 hours (local time) on Monday 18 April after a group of six protesters were seen trying climb Nelson's column with a banner. At around 09:00 (local time) the protesters came down from the column – two people were arrested on suspicion of criminal damage," the Guardian quoted the police as saying.
Four protesters were arrested after they fitted a gas mask to the face of the statue of Oliver Cromwell, a 17th-century British political leader, in the grounds of the Houses of Parliament, the Guardian reported.
The protesters, in a city-wide exercise, donned with masks 17 statues, including those of Winston Churchill in Parliament Square, Queen Victoria opposite Buckingham Palace, Thierry Henry at Arsenal's Emirates stadium and the statue of Eros at Piccadilly Circus.
London reportedly has the worst nitrogen dioxide (NO2) levels in the world. The gas leads to inflamed lungs and is considered a "silent killer." Another Guardian report cites a British government report as saying that at least 23,500 people die every year in the country due to NO2.
Air pollution has become a world-wide concern with India's capital New Delhi going in for a second phase of its traffic rationing scheme called Odd-Even, which landed the Chief Minister Arvind Kejriwal on Fortune Magazine's list of the 50 greatest leaders in the world. Metropolitan cities in China have also been battling air pollution, with air quality levels dipping so much that the country had to issue red alerts. Recently, drones were deployed in Hebei, close to Beijing, to identify sources of pollution, the Press Trust of India reported.