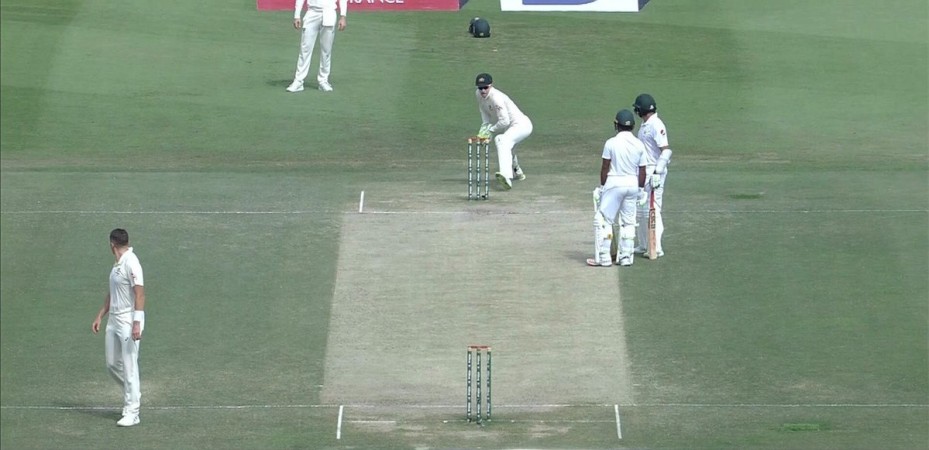 Pakistan have dominated Australia in the second Test of the ongoing Test series. After having scored 282 runs in their first innings, the bowlers led by Mohammed Abbas and Bilal Asif sent Australia packing for 145 runs.
They started off solidly in the second innings too, but then on the third day, one particular incident stole the show.
It was the third ball of the 53rd over, Peter Siddle was the bowler and Azhar Ali was on strike. Siddle bowled a length ball outside the off stump, it nipped way just a touch after pitching, Azhar Ali was on the front foot as he looked to defend the ball. The ball took the outside half of the bat and squirted away past a vacant gully towards third man.
However, for some reason, both Azhar Ali and Asad Shafiq decided that the ball had crossed over for a boundary and was happily chatting away mid-pitch. The ball rolled along the grass and stopped just short of the third man fence. Mitchell Starc ran behind the ball and hurled it back in. Tim Paine got rid of the bails and a stunned Azhar Ali had to walk back to the pavilion.
Twitter has been having a field day, ever since:
The list of insanely ridiculous run outs of Pakistani batsmen is long but Azhar Ali has just turned in an all time top five entry.

— Ahmer Naqvi (@karachikhatmal) October 18, 2018
Unbelievable. ?

Azhar Ali run out whilst chatting with Shafiq in the middle, thinking he's hit a four. Except he didn't. Dumb and dumber.

Easily the stupidest piece of cricket I've ever seen in 35 years of watching and playing cricket.

Pakistan bloody Zindabad.#PAKvsAUS pic.twitter.com/nhFgRoq2aw

— Abu Eesa Niamatullah (@Niamatullah) October 18, 2018