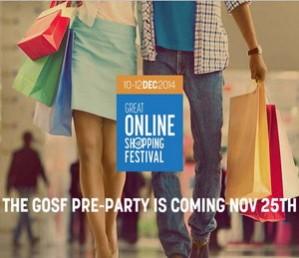 Google India has announced the launch of its third "Great Online Shopping Festival" (GOSF) from 10 to 12 December 2014.
Designed to boost online shopping in India, the mega online shopping festival will feature over 450 partners offering their best deals. In addition to these, GOSF will also feature exclusive launches from leading brands like Motorola Nexus 6, HP, Lenovo, Tata Housing, Karbonn, Van Heusen and Asian Paints.
Focusing on the first-time buyers, it will feature a special section with heavily discounted products along with free shipping and cash-on-delivery options. The section is designed to excite first-time buyers and will feature products and offers from leading brands like Philips, Uber, JBL, Benetton, Alia Bhatt collection, EverPure water purifier and My Universe.
"Great Online shopping festival is India's version of cyber Monday and is an exciting platform to move the industry forward," Rajan Anandan, VP & Managing Director, Google India said, while speaking about the momentum of online shopping in India, "The consumer confidence to shop online has grown considerably in the last 12 months, boosting the growth of both large multinational and homegrown companies. Our recent report projects that the Industry will continue to see robust growth in next few years making it a USD 15 billion industry by 2016."
GOSF will host a special contest offering a chance to win 14 minutes free shopping hosted by leading brands. Users will be able to participate in this contest across leading social media platforms from 25 November till 8 December 2014.
The contest is hosted by 14 brands - Asian Paints, Jet Airways, Kindle, Micromax, HP, Ask Me, CraftsVilla, Cox & Kings, Goibibo, Big Bazaar, KOOVs, Trendin, Lakme and Lenovo.
The initiative was launched by Google in 2012 and has seen tremendous response. Last year, two million users visited GOSF and over 16 million users visited the sites.
"We have seen tremendous success and overwhelming consumer response for our Motorola devices in India," said, Amit Boni, General Manager, Motorola India. "This year during Google's Great online shopping festival, we are very excited to be featured as one of the leading brands for the exclusive launch of Nexus 6 with our partner. With the Nexus 6, we've tried to bring you a bigger phone with more everything. More screen. More speed. More power. In India, we have been following an online sales-model and Great Online Shopping Festival will be a great platform to engage with consumers and showcase our amazing devices to a wider audience."
Buyers can look forward to exciting deals across categories. GOSF offers something for everyone with great discounts across categories including footwear, property deals, holiday packages, insurance, air tickets, auto, books, jewellery, taxi service, groceries, electronics, apparels, baby care, home decor, gifting, online games and bridal wear.