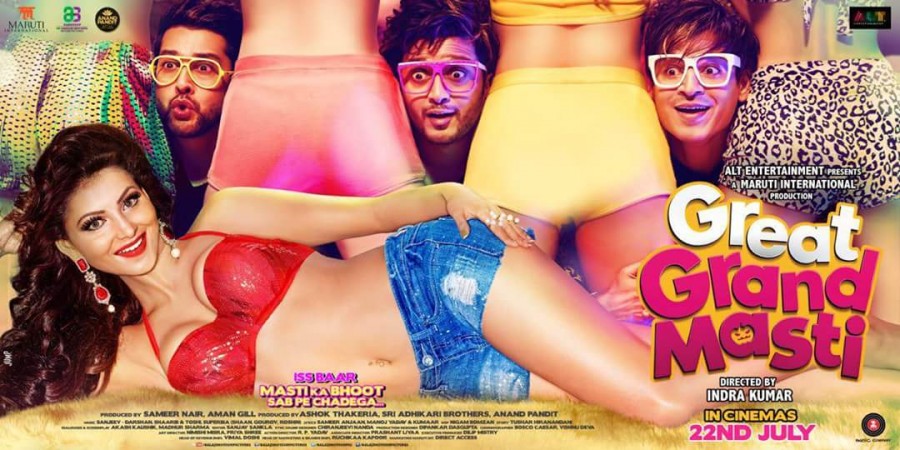 Adult comedy "Great Grand Masti" is a complete washout at the box office. The film, starring Riteish Deshmukh, Vivek Oberoi and Aftab Shivdasani, has earned just Rs. 8 crore in its opening weekend in India, while the collections from the international market are dismal.
"Great Grand Masti" opened to a low first-day collection, followed by a similar trend on the second day. The collection only showed growth on its third day, i.e. Sunday. The adult comedy collected Rs. 2.5 crore on Friday, Rs. 2.5 crore on Saturday and Rs. 3.2 crore on Sunday.
One of the reasons why the film had a shockingly low opening weekend was the online leak. The film was leaked online 17 days before its release, which cost the producer a lot. Several moviegoers downloaded the film and even reviewed it on Twitter before its theatrical release. This has caused the makers a huge loss, as they have hardly earned any production cost from the box office collection.
"We are facing huge losses. It's unprecedented as the film was leaked three weeks before the official release. It must be almost Rs 100 crore loss," one of the lead actors Vivek said during a press conference.
"It's a big loss for us. This has happened for the first time when a film is leaked 17 days before its official release. It has killed our film. It's a tough time for us. We are sad and upset," director Indra said at a press conference on Saturday.
The film has performed poorly at the box office and now it risks getting kicked out of theatres after its first-week run. With two new releases "Kabali" and "Madaari" and the ongoing film "Sultan," the adult comedy "Great Grand Masti" might not find any takers at the box office in its second week.