The first trailer for Amazon Prime's The Grand Tour season 2 has just been released. And the 35-second-long preview clip is exclusively available for Amazon Prime members. Fans across the world have to wait for the sneak peek till it gets released on its YouTube channel.
Also read: The Grand Tour's Richard Hammond escapes another 'biggest' and 'most frightening' car crash in Switzerland
The short trailer features the three presenters -- Jeremy Clarkson, James May, and Richard Hammond -- motoring through various countries including Mozambique, the UK and Switzerland.
Amazon Prime members can watch the trailer here.
In the trailer, Clarkson is seen riding through the desert amidst sand dunes, Hammond is spotted driving the electric supercar Rimac Concept One [just before the horrific car crash]. At the end of the trailer, the screen reads— "A second round of monkey business just around the corner."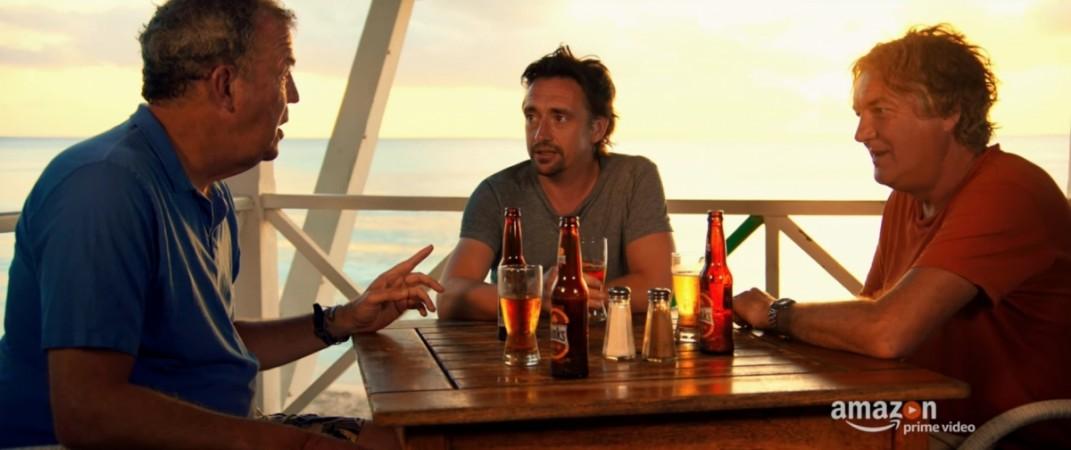 This trailer comes after Hammond's car burst into flame almost a month ago as Clarkson took to Twitter to describe it, "It was the biggest crash I've ever seen and the most frightening but incredibly, and thankfully, Richard seems to be mostly OK."
Previously, May had hinted the premiere date of the second season of the motoring show as he said that fans can expect the season 2 in October. But Hammond's accident may cause a delay of the premiere of the show.
Giving a nod to this, Clarkson told DriveTribe, "Many of you have been asking if Hammond's broken knee will affect the filming for season two of the Grand Tour, and the short answer is yes.
"As I write, James May is sitting in the hell hole that is Gatwick Airport waiting for a budget airline to take him to a shoot that Hammond should have been doing."
It is not yet revealed that when the show will arrive on the streaming platform. But it is highly expected to be premiered at the end of 2017.
Watch The Grand Tour season 2 trailer here.