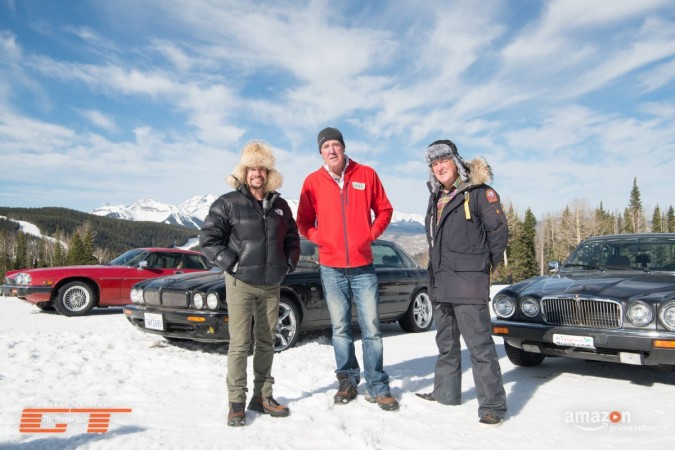 The Grand Tour (TGT) fans must be quite excited upon the show's return to the small screen. As the show will arrive on Amazon Prime Video on December 8, fans can't wait to see the new changes in the upcoming season.
Also read: Is THIS why Amazon decided to keep The Grand Tour studio in one place?
Besides James May's new haircut and keeping the TGT's travelling tent at one place, there is one more new change in the show's format.
One of the show's segments The American played by NASCAR driver Mike Skinner is not returning in Season 2.
Taking to Twitter, Mike Skinner announced that he will not be returning in the second season of the Amazon motoring show because he was told that "his character was not developed."
FYI I won't be joining the guys on @thegrandtour 2nd season - I wish them all the luck. My character wasn't developed as I was told.

— Mike Skinner (@MSTheGunslinger) November 7, 2017
and I agree with many of you that it sucked - if you're gonna wear Evil Knievel's firesuit, you need to be Evil Flipping Knievel! Peace out

— Mike Skinner (@MSTheGunslinger) November 7, 2017
Well, not everyone liked that particular segment of the show and even the Celebrity Brain Crash segment as well. Hence it is time to see whether the latter will be continued in the second season, unlike The American.
Watch the trailer for The Grand Tour Season 2.
Hosted by the former Top Gear trio — Clarkson, Hammond and May — The Grand Tour first season garnered a lot of popularity. Hence the fans are eagerly waiting to take an adventurous ride with TGT Season 2 again.
The second season has been reportedly filmed in various places such as Croatia, Switzerland, Dubai, Spain, Mozambique, and Colorado. But recently Amazon bosses took the decision of keeping the show's travelling tent at one place as it hosts are extremely accident prone.
Andy Wilman, Executive Producer of The Grand Tour said. "We'll keep the studio in one place, and given how accident prone they are at the minute, that can only be a good thing!"
"Given their sore joints, struggling lungs and combined age of 158, the studio tent has been given a new home in a charming location in the Cotswolds."