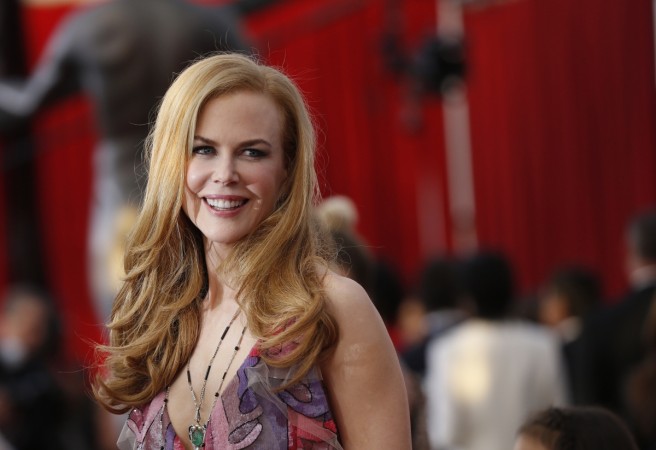 Graham Norton is known for his witty sense of humour and his show -- The Graham Norton Show -- always serves the right amount of gossip for viewers. A few days ago, he revealed secrets about Jennifer Lawrence scratching her butt against a sacred rock in Hawaii landing her into a controversy. And this week, the host opened a box from the past and showed the world a few pictures from the early days of Nicole Kidman's career. Promoting her new movie, The Lion, Kidman and co-star Dev Patel appeared on The Graham Norton Show.
During the initial days of her career, she was featured on the cover of Dolly magazine. Informing Kidman, Norton shares the magazine has been shut down. However, he gets a copy of the magazine from the 1980s, when Kidman was a teenager and featured in it.
Curly hair and her lovely blue eyes, she dazzled on the cover of the magazine. "They dyed my hair red. I was only like 14. It wasn't red like that. Everyone always thinks that it was that red. No one knows they dyed it," Kidman clarifies. However, after appreciating the cover picture, the host began to show hilarious and embarrassing pictures of the actress.
The first photo shows Kidman dressed in a shiny jacket, a red t-shirt and rope seams, and that was enough to make Kidman cringe. Preparing her for the next picture, Kidman exclaims, "Oh god, you're brutal," and confesses that she would love to have her curly locks back.
The second photo was rather more embarrassing than the first one as the star wore a long black dress with red boots and holds her leg up in the air as she is seen sitting on the floor. Really? Why would you do something like that? And how did the picture get approved? Yes, Norton, even we would like to know, what exactly did the photographer tell Kidman that led to such a result? Whatever it may be, fashionistas across the world are relieved that Kidman quickly grew out of that phase.
Watch Kidman cringe and get embarrassed here: