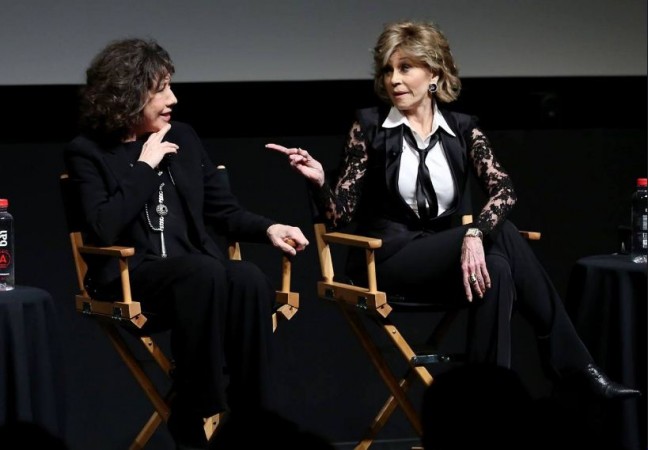 Netflix did "Grace and Frankie" fans a favour earlier this year by renewing the show with Season 3 even before Season 2 had aired. However, in the last two months since Season 2 premiere, there has been no announcement regarding when the new season will be added to the ever-increasing Netflix library.
On studying the trend of the first season of "Grace and Frankie," it has come to our attention that Netflix usually releases new seasons on the first Friday of every May. Season 1 was added to Netflix on May 8, while Season 2 got a premiere on May 6. Considering this pattern, the release date for Season 3 should be on Friday, May 5, 2017.
The show has had a huge impact on many people, from Hollywood celebrities to Drag Queens to men and women who identify as queer. "Grace and Frankie" has addressed issues like gay marriage, starting a new life towards the dusk of your life, and female empowerment. Now, with Season 3 we will see how it opens the platform for female sexuality.
Also Read: Check out the hilarious tweets that got Leslie Jones invited to Rio Olympics
There is a common misconception that women stop wanting to have sex as soon as they hit menopause, and here are two women in mainstream media, well past the menopausal age, saying they want to make lubricants and vibrators for other women. We all know Frankie's (Lily Tomlin) lubricant business sank way too soon, thanks to her tiff with the corporate aka Brianna (June Diane Raphael).
However, Season 2 had ended with the hope that the two ladies will start a business of their own, where they will make vibrators that will be easier for older women plagued by arthritis to use. Surprisingly, it was Grace's (Jane Fonda) idea to start the business.
As we saw in the finale episode, the ladies are not pleased with the way they are being treated by the rest of their families, so this business will also be a sweet revenge for Grace and Frankie.