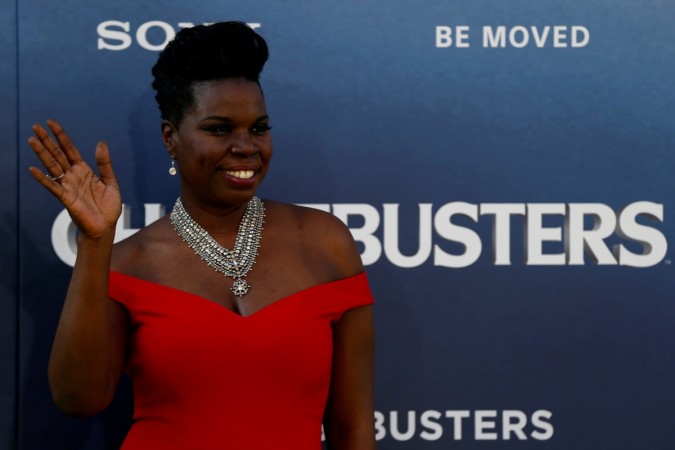 A "good luck" here and a "well done" there; that is the extent of Olympics tweets that an average fan types out. Not Leslie Jones. She has been live-tweeting the entire ceremony, following America's rise, capturing and sharing some of the best moments, and expressing her personal opinions since the beginning of Rio Olympics 2016 and someone important has finally paid attention.
The hilarious "Saturday Night Live" cast member is definitely all about Team USA and she's not afraid to show it. Clearly a huge fan of the international sporting event, Jones has been commenting on all events from fencing to swimming. As Jones herself explains in one of her instagram videos, "I LOVE THE OLYMPICS! It's the only time we come together to compete!!"
Her hilarious live-tweets garnered much attention and even caught the eye of Olympics producer Jim Bell, who has been retweeting everything Jones posted. He then officially invited her to the Rio Olympics 2016, to which Jones replied, "hmmmm don't play cause y'all need me! I would have the whole Olympics pumped!!"
Following a few more conversations the trip has been finalised:
RIO BOUND BABY USA! USA!! pic.twitter.com/Gkaxr2UOPl

— Leslie Jones (@Lesdoggg) August 8, 2016
Check out some of the hilarious tweets from Jones that got her a invitation to Rio Olympics 2016:
BACKED HER SHIT UP!! CHEAH!! USA USA USA pic.twitter.com/4wRMkeooIx — Leslie Jones (@Lesdoggg) August 9, 2016
ThAts what we do!! pic.twitter.com/x0aZbc0XSg

— Leslie Jones (@Lesdoggg) August 9, 2016
BAKER BAKER MEDAL MAKER!! CHEAH! Way to go boo!! pic.twitter.com/DuEm2T6RP3 — Leslie Jones (@Lesdoggg) August 9, 2016
I WANT A SHIRT CONOR!! pic.twitter.com/W1YtO2aL04

— Leslie Jones (@Lesdoggg) August 9, 2016
Call the out KING!! Cause you can back your shit up!! CHEAH!! USA USA USA pic.twitter.com/01hwcyFzZd — Leslie Jones (@Lesdoggg) August 9, 2016
NICE!! pic.twitter.com/C6g00Kf1Ur

— Leslie Jones (@Lesdoggg) August 9, 2016
I mean how much rhythm you have to have to do this OMG!! pic.twitter.com/ypGiwcvVZb — Leslie Jones (@Lesdoggg) August 9, 2016
Nice ending to awesome day!! pic.twitter.com/OItVfCp3Xt

— Leslie Jones (@Lesdoggg) August 9, 2016