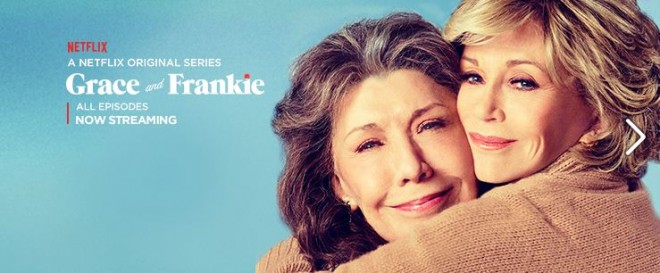 "Grace and Frankie" is one of the most popular and unique shows on TV right now, and it is no surprise that the show got renewed for Season 3 without any hassle. It is understood that Grace (Jane Fonda), Frankie (Lily Tomlin) and their families will return to Netflix in May 2017.
While an official date is yet to be confirmed, Netflix fans know how the online streaming service likes to stick to the same time for every premiere. Taking this into consideration, "Grace and Frankie" Season 3 can be expected to be available for streaming on Friday, May 5, 2017.
When the show returns, we will get to see Grace and Frankie making good on their announcement about starting a new company. In season 2 finale, we saw the two women get angry at their family for disregarding them.
Also Read: Hiccup and gang to fight bigger, badder Viggo in "DreakWorks Dragons" Season 4
Grace and Frankie point out various instances where their ex-husbands and children have been insensitive towards them, but they fail to fully understand the gravity of the ladies' anger. Grace is furious to learn that Robert (Martin Sheen) bought her gifts in bulk and gave them to her during the right moments. Meanwhile, Frankie comes to the realisation that Sol (Sam Waterston) had lied to her about the only painting she had sold.
In the end, they announce that they are going to start making vibrators for women their age, an idea which was spurred after Grace's arthritis kicked in while she tried to use one herself. Their children are horrified with this idea, but suffice to say, that is not going to stop these women on a mission.
Season 3 of "Grace and Frankie" will also see Robert and Sol moving into a new house. Fans will remember how they had realised how their current house holds bad memories for each of them.
It is truly going to be a new beginning for all of the characters, come "Grace and Frankie" Season 3.