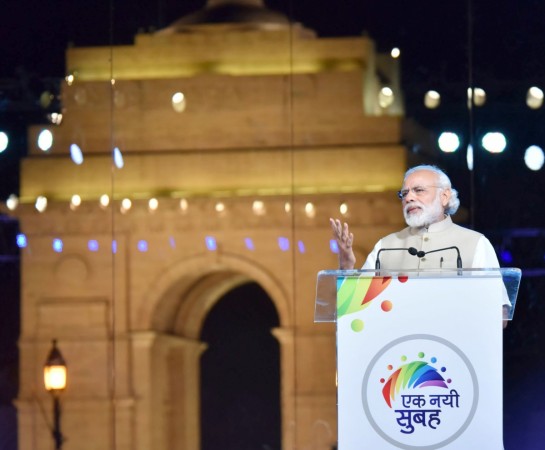 The celebrations held to mark two years of Modi government in office ended up with the government emerging as the biggest spender on television advertisements, ahead of established consumer brands.
In its data for the week May 28 to June 3 (week 22), television audience measurement agency Broadcast Audience Research Council (BARC) India has ranked "Govt of India" at the top of 10 brands.
The government of India had 26,236 insertions, far more than the second-highest advertiser, according to the data released on Friday.
Of course, the agency does not specifically mention the "Ek Nayi Subah" event that was held at India Gate in New Delhi on May 28 to celebrate the completion of two years of NDA government. But the same can be inferred, since no other major government event was held during the week under review.
The five-hour long event that culminated with Prime Minister Narendra Modi's speech was not only shown on national broadcaster Doordarshan but also by private television channels.
The event, which was hosted by Bollywood celebrities such as Amitabh Bachchan and R Madhavan, among others, was used by Modi to claim various achievements over two years, including savings of Rs. 36,000 crore in plugged leakages in subsidy outgo.
The event was slammed by the Congress for bad timing, which said the event was uncalled for at a time when the country was going through an agrarian crisis.
The media extravaganza was compared to the days when Doordarshan was exploited to the hilt by the ruling party in the pre-private channel era.
"It was resonant of the news bulletins of the Emergency era which would forever begin with "Prime Minister Indira Gandhi has said..." or "Prime Minister Indira Gandhi has announced..." or "Prime Minister Indira Gandhi has called upon....," wrote senior journalist Sankarshan Thakur in The Telegraph.
The subservient attitude of Modi government ministers also came in for sharp criticism by him.
"Senior and junior ministers of government, chief ministers, social workers and thought leaders, megastars and starlets, minstrels and market managers, communication gurus and admen, all lined up to play their bit parts in an orchestral eulogy that would have done the Kim clan proud," Thakur wrote in his column.