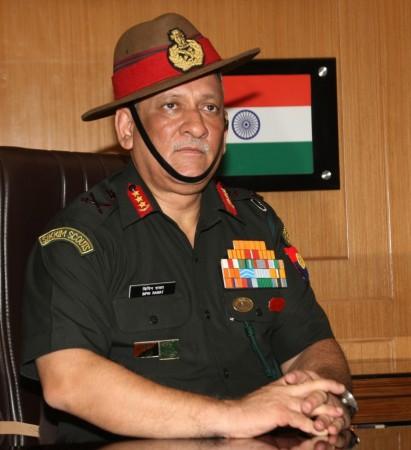 The central government has defended the appointment of Lieutenant General Bipin Rawat as the new army chief of India, saying that he was appointed "purely on merit" and that "due process had been followed considering the prevailing security environment and requirements."
Lt. Gen. Rawat superseded two senior commanders — Eastern Army Commander Lt. Gen. Praveen Bakshi and Southern Army Commander Lt. Gen. PM Hariz — to be appointed as the 26th army chief of India, replacing General Dalbir Singh who will retire from service on December 31. The decision was criticised by the Congress party and the Left.
Lt. Gen. Rawat belongs to the Gorkha Regiment (infantry), like Gen. Singh, while Lt. Gen. Bakshi and Lt. Gen. Hariz belong to the Armoured Corps and the Mechanised Infantry, respectively. This has led to distress in some sections of the defence services, who feel that the appointment decision could sharpen the divide between the infantry and the other sections of the army, the Indian Express reported.
However, the ministry of defence defended the appointment, saying that the selection is based purely on merit, irrespective of the Corps to which the officer originally belonged.
"The appointment of the Chief of Army Staff is based on selection from a panel of officers in the rank of Army Commanders. All officers in the panel are very competent officers and the most suitable among them is selected. However, it must be emphasised that the prerogative of selecting the most eligible from the panel is that of the government," sources in the defence ministry were quoted by the daily as saying.
The report added that the decision was made keeping in view the current security situation, and the key issues of counter-terrorism and counter-insurgency. Lt. Gen. Bipin Rawat, it said, fulfils the criteria by virtue of his operational assignments as commanding officer of 19 Division in Jammu and "his outstanding track record", and Kashmir and his familiarity with the functioning of the army headquarters and ministry of defence in his capacity as vice chief.
This is not the first time that the tradition of looking at seniority while appointing army chiefs has been compromised. In 1983, Lt. Gen. SK Sinha was overlooked when Lt. Gen. AS Vaidya was appointed the army chief. Lt. Gen. Sinha had, following the appointment of Lt. Gen. Vaidya, resigned from the army.