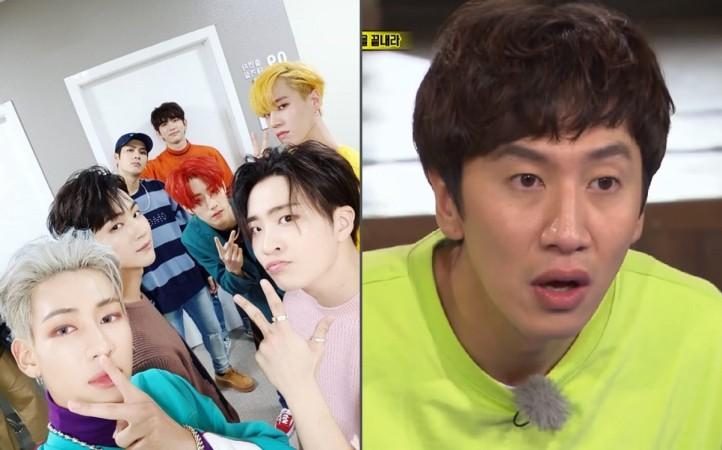 The last time K-pop boy group GOT7 appeared on SBS' 'Running Man' was in 2016, that is if Jackson's appearance on the Chinese version of the variety show is not taken into account. Fans of the idol group needn't worry as GOT7 will appear on 'Running Man' once again.
As noted by website Soompi, on September 4, a post was made on SBS's instagram page for 'Running Man' with the caption, "Yes, this is real life! It's really GOT7! Guess what they did with 'Running Man'?"
The full group will be appearing on the 'Running Man' show after almost two years. Their first appearance on the variety programme was in November of 2016. As mentioned above, GOT7 member Jackson appeared as a guest on 'Keep Running' or 'Hurry Up Brother,' the Chinese version of 'Running Man.'
While 'Running Man' began in 2010, 'Keep Running' started in 2014. Six episodes have aired of the Chinese variety show to date.
GOT7, who will be releasing their third full album titled, 'Present: You' on September 17, will also be appearing on JTBC's 'Idol Room' for its September 18 episode. This will be their first appearance on the show. As noted by Soompi, this will be a reunion of GOT7's Jackson, Big Byung's Wang Kong and Big Byung creators Jung Hyung-don and Defconn.
As for 'Running Man,' in the latest episode to air, Lee Kwang-soo was forced to reveal some hilarious dating fails from his past. In episode 548, which aired on September 2, the members played a game of truth or dare. Kwang-soo chose truth but instantly regretted upon realising that the cast wanted him to talk about some embarrassing dating experiences from the past.
One such experience occurred due to Yoo Jae-suk's advice. "I went to Yoo Jae-suk at night for some advice about a girl. [I said at the time,] 'I think she has feelings for me and I currently like her as well.' I went in front of his house and the two of us talked in the car," Lee Kwang-soo said.
The 'Running Man' member added, "Then, Yoo Jae-suk said, 'Kwang-soo, if you don't confess your feelings right now, you may lose her.' The next day, [I sent her a text message saying,] 'I think I like you. Do you want to try dating?' She replied, 'Kwang-soo, I think you're misunderstanding something. We don't have that kind of relationship. We're colleagues.'"
The advice to 'seize the moment' is a cliche. However, suffice to say it does not always work out. Lee Kwang-soo is famous for being the unlucky member in 'Running Man' and in this instance, it was no different, sadly.
Obviously, Kwang-soo felt betrayed at the time. "This guy ruined my precious relationship. When I think back to that even now...," he said pointing at Yoo Jae-suk.
Lee Kwang-soo also mistakenly revealed how a woman he was involved in a casual fling with once, was involved in a dating rumour at the same time. He was responding to a question from the 'Running Man' staff on the number of times he was rejected after confessing his feelings. Hilariously though, Yoo Jae-suk told him, "That's not the one," after the other members had their fill of laughter.
The next episode of 'Running Man' airs on September 9 at 4.50 p.m. KST. Watch the clip below.