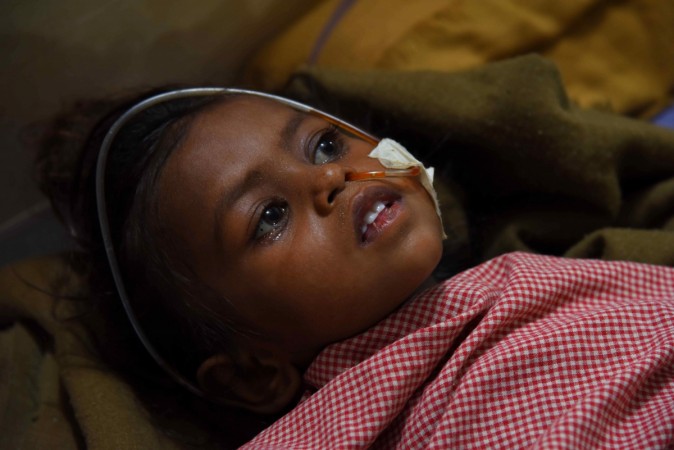 The recent reports state the rise in death toll, thus marking th e total number of deaths to be 63. Families of children at BRD Medical College have alleged discrepancy in treatment and have said that they are buying food and medicine from outside, according to ANI.
Nearly 60 children have died in the past five days in Gorakhpur's Baba Raghav Das Medical College hospital, forcing Uttar Pradesh government to launch a magisterial enquiry into the incident. Mediareports suggest the reason for the deaths is shortage of oxygen supply, which was cut off by the provider due to non-payment of money to the tune of Rs 66 lakh.
Nearly, thirty children lost their lives in the past 48 hours reportedly due to infections and disruption of oxygen supply in the paediatrics ward in the hospital, although the district administration have rejected that latter as a reason for deaths.
CM Adityanath's visit
Two days ago, Chief Minister Yogi Adityanath visited the paediatric ward of the hospital and also inaugurated the ICU, Critical Care Unit and visited the ward where children infected with Japanese encephalitis virus were being treated.
Yogi Adityanath had said that a meeting was held with the principle secretaries of health and medical education regarding this disease.
A report on Friday from the BRD Medical College gave a break-up of the 60 deaths since August 7 under categories listed as NICU (neonatal intensive care unit ), AES, non-AES:
August 7: 9 (4 NICU, 2 AES, 3 non-AES)
August 8: 12 (7 NICU, 3 AES, 2 non-AES)
August 9: 9 (6 NICU, 2 AES, 1 non-AES)
August 10: 23 (14 NICU, 3 AES, 6 non-AES)
August 11: 7 (3 NICU, 2 AES, 2 non-AES)
(According to the Indian express report)
District magistrate refutes lack of oxygen as reason
Gorakhpur's district magistrate Rajeev Rautela said that no deaths have taken place in the medical college due to lack of oxygen supply. The seven deaths that reportedly took place on Saturday, August 12, were due to various other medical reasons.
In response to the accusation made about dues to be paid to the company supplying oxygen cylinders, he said that there had been an alternative arrangement of 50 oxygen cylinder that was put to use. Hence there was no oxygen shortage. He also said that more oxygen cylinders will be brought from the neighbouring district.
Meanwhile, he assured that the issue will be probed and the results will be out in the next 24 hours, based on which action will be taken accordingly.
Leaders react
Congress president Sonia Gandhi who expressed her grief towards the families who lost their children due to 'medical negligence', urged the UP government to take immediate action against the ones responsible.
Former UP chief minister Akhilesh Yadav blamed the state government for the deaths and demanded compensation for the kin of the children.