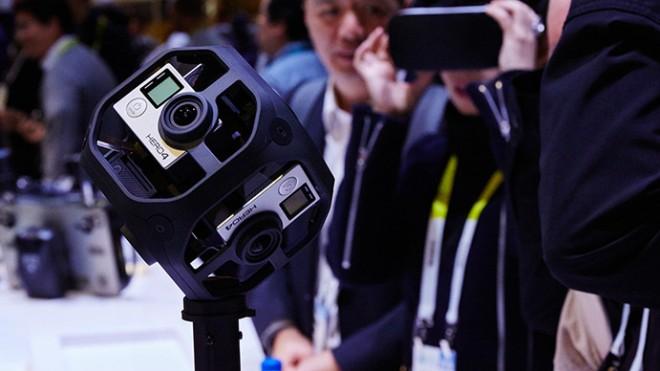 GoPro, which had announced its Omni VR rig recently, has now listed the rig on its website with a price tag of $5000. The device is a cube-shaped mount that can accommodate six GoPro cameras and shoot 360 degree video.
The $5000 version of the Omni includes the six GoPro cameras one needs to shoot. With the cameras mounted, the GoPro ensures a seamless "pixel-level synchronisation" between videos. The rig also promises to hit record on all the six cameras at the same time.
The videos shoot can be imported into Kolor, a VR post-production software, which GoPro acquired along with its parent company last year. Once imported the software stitches together the video automatically to create one really huge video, which when viewed using a VR headset, will present a 360-degree video.
Users can either power the rig via the cameras' in-built batteries or choose to hook the Omni up to an external power supply. For users who already have a few GoPros lying around, they can choose to pick up only the Omni VR rig for $1500.
Read More: GoPro launches developer programme
GoPro, in the complete edition, includes six Hero4 Black cameras, which in total cost $3,000. While doing the math, things don't exactly add up. Maybe GoPro is charging extra for installing the "Omni-specific array camera firmware."
In addition to the rig, GoPro also unveiled a VR content publishing platform where users can shoot their 360 degree videos and share them with the world. The videos can be filed under different categories and yes, they can be viewed via smartphone apps.
The rig will be available staring August 17, 2016 and can currently be pro-ordered.