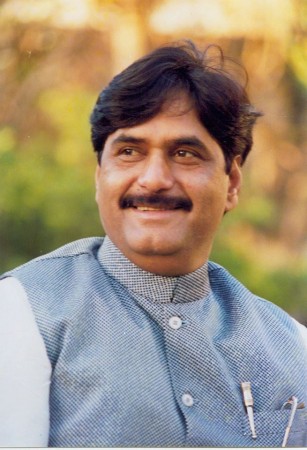 Soon after senior BJP leader and union minister for rural development Gopinath Munde died of a heart-attack, after his car met with an accident early Tuesday morning, users of social media sites as well as some BJP stalwarts have alleged conspiracy on the death.
In a strange coincidence, both Munde and Pramod Mahajan died exactly on the 3rd day of a month. Munde is the brother-in-law of late BJP leader Mahajan and was married to Mahajan's younger sister.
(Also Read: RIP Gopinath Munde: Twitter Flooded with Tributes, Condolences on the Demise of Union Minister)
While Munde died on Tuesday (3 June); Mahajan died on 3 May 2006 after he was shot at by his brother Pravin Mahajan over a family dispute.
Many have now started thinking that the third day of the month is inauspicious for the Munde-Mahajan family, and it was too bizarre a coincidence that both happened to die on similar dates.
Sarangi Mahajan, wife of Pravin has said that the death of Union minister is a major setback for her, as he was her last hope for a probable reconciliation with the Mahajan family.
"The third day of a month is very inauspicious for the Mahajan and Munde families," Sarangi told TOI.
On 3 June 2006, Vivek Moitra, Mahajan's Man Friday died. Pravin also later died at the Jupiter hospital in Thane on 3 March 2010.
Was it a Conspiracy?
Munde was reportedly on his way to the Delhi airport, when his car met with an accident at around 6:20am this morning in the Moti Bagh area of the capital city.
One more aspect of the death, which has bothered most people on social media – some of who have been alleging that something is fishy– is the time at which the death occurred. For one thing, it was early morning when it is unlikely for roads in Delhi to be filled with much traffic; and for second, it was a bizarre coincidence, (if it was a coincident in the first place) that a random Indica car had to hit exactly the car in which the minister was present.
BJP spokesperson Avadhut Wagh tweeted his opinion that there is a conspiracy on the fact that two big leaders had to die an unnatural death.
Mahajan first, then Mundhe Is it not a conspiracy to finish Mahajan-Mundhe family from politics? How such 2 big leaders die un natural death

— Avadhut Wagh BJP (@waghindia) June 3, 2014
"Road accident at 6:30 am. Definitely fishe!," tweeted a user. "Was not security with him? Conspiracy? RIP Gopinath Munde."
"Death of shri gopinath munde seems to be nothing else than a conspiracy," added another.
Is it just me or does Gopinath Munde's death reek of conspiracy? #PuttingItOutThere

— Priyanka Bhojwani (@Jabberjam) June 3, 2014
He was handling the Ministry in which der wr Maximum scams ... & sddnly he died ..!!! Leads towards Conspiracy. RIP Gopinath Munde. :( — Vishal Patel (@realVishaL) June 3, 2014
I refuse to believe this is accident... This is more of a conspiracy. :( RIP Gopinath Munde

— Ashmita Malhot₹a (@ashmita_m) June 3, 2014