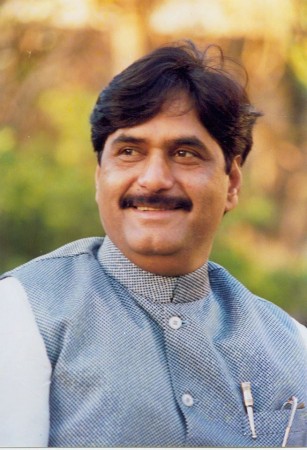 Tributes and condolences have been flowing in numbers for senior BJP leader and union minister for rural development Gopinath Munde, who died of a heart-attack, after his car met with an accident early Tuesday morning.
Munde was reportedly on his way to the Delhi airport, when his car met with an accident at around 6:20 am this morning in the Moti Bagh area of the capital city.
Having just been sworn in as a cabinet minister last week in Prime Minister Narendra Modi's cabinet, Munde was on his way to Mumbai, where he was to address a series of public meetings in Beed, his Lok Sabha constituency.
Soon after he was pronounced dead at 7:20am in the trauma centre at the All India Institute of Medical Sciences, tributes and condolence messages have been flooding social media platforms such as Twitter, with the words 'RIP Gopinath Munde' instantly becoming a trend.
Among those who expressed great sadness and shock over Munde's demise was the Prime Minister himself.
Extremely saddened & shocked by the demise of my friend & colleague Gopinath Munde ji. His demise is a major loss for the Nation & the Govt.

— Narendra Modi (@narendramodi) June 3, 2014
Gopinath Munde ji was a true mass leader. Hailing from backward sections of society, he rose to great heights & tirelessly served people. — Narendra Modi (@narendramodi) June 3, 2014
My tributes to a dynamic leader whose premature demise leaves a void hard to fill.

— Narendra Modi (@narendramodi) June 3, 2014
Condolences to Munde ji's family. We stand by them in this hour of grief. — Narendra Modi (@narendramodi) June 3, 2014
Minister of Home Affairs, Rajnath Singh was also quick to react on the news.
Deeply shocked to know of Shri Gopinath Munde's demise. He was a grassroots leader and known for his concern for poor people and farmers.

— Rajnath Singh (@BJPRajnathSingh) June 3, 2014
Mundeji's death is an irreparable loss to the BJP and he has left a big void in Mahrashtra's political and social life. — Rajnath Singh (@BJPRajnathSingh) June 3, 2014
Heading to the AIIMS hospital.

— Rajnath Singh (@BJPRajnathSingh) June 3, 2014
Here are some more tributes for the leader from other important public figures:
Shocked to hear the sad demise of Gopinath Munde a personal friend and a great leader. My heartfelt condolences to the Family.

— digvijaya singh (@digvijaya_28) June 3, 2014
Shocked at the sudden demise of Shri Gopinath Munde ji. My deepest condolences to his family and followers. We will all miss his presence. — Anandiben Patel (@anandibenpatel) June 3, 2014
Saddened to hear the untimely death of our beloved Rural Development Minister Shri Gopinath Munde. My sincere condolences.

— ShivrajSingh Chouhan (@ChouhanShivraj) June 3, 2014
Very sad & upset by accidental death of my friend Gopinath Mundeji. Its a severe loss for govt, BJP & India which will be hard to overcome. — Ananthkumar (@AnanthKumar_BJP) June 3, 2014
Untimely demise of Munde ji has left us in shock.hey Bhagwan plz give strength to his family to bear this unbearable ..RIP Mundey ji

— Giriraj Singh (@girirajsinghbjp) June 3, 2014
Gopinath Mundhe: a gram sevak who became a big neta. Who had a ready smile and large heart: RIP. — Rajdeep Sardesai (@sardesairajdeep) June 3, 2014
As rationalists we dont believe in being 'spooked' but the Munde Mahajan family has had more than its share of bad luck and tragedy. Sad

— barkha dutt (@BDUTT) June 3, 2014
Here are some of the most touching messages on the 'RIP Gopinath Munde' trend:
Life has its own turns - and we do not always know whats around the bend - RIP Gopinath Munde — Ronnie Screwvala (@RonnieScrewvala) June 3, 2014
RIP Gopinath Munde Ji. I can't believe this. See, Anybody can do planning for years but there is no guarantee for a day also.

— KRK-Ek Villain (@kamaalrkhan) June 3, 2014
My sincere condolences to Gopinath Munde ji's family ,indeed a great loss to NDA. RIP Gopinath Munde — akshay kumar singh (@akshay049) June 3, 2014
Another senseless death. Delhi roads really are killer roads. RIP Gopinath Munde. Condolences to loved ones. SVP #DelhiRoads

— Siddharth V Patankar (@sidpatankar) June 3, 2014
RIP Gopinath Munde -Perfect Crime? How did the Car hit theirs with such perfection? Where was the Security? Was not their other Police cars? — ViraatHindu Rashtra (@goldenpeak24) June 3, 2014
RIP Gopinath Munde you were a great leader. Sad time for all of us

— sharatsrs (@sharatsrs) June 3, 2014
We were having our breakfast, incoming #WhatsApp message, Switched ON TV, Saw news, couldnt eat any further. RIP Gopinath Munde — shailendra singh (@shaksingh) June 3, 2014
RIP Gopinath Munde No 1 can prepare 4 loss; it cms lyk swift wind. Bt take comfort in knowing dat he is now resting in the arms of our Lord.

— Jkhirolkar (@JKhirolkar) June 3, 2014