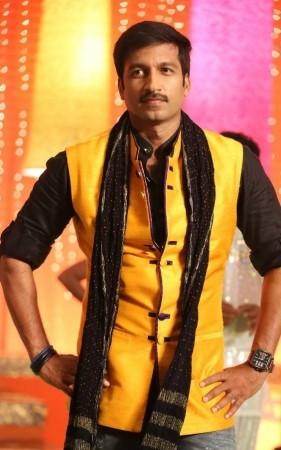 Telugu actor Gopichand's wife Reshma has delivered a baby boy on Monday, 13 October. Reports suggest that both mother and child are hale and healthy. The actor is super thrilled over the arrival of the new family member.
Gopichand tied the knot with actor Meka Srikanth's niece Reshma in May 2012. She got conceived earlier this year, but Gopichand had kept the news about her pregnancy under wraps. However, sources close to the actor revealed last week that he had taken a break from the shooting of his upcoming movie to look after his wife.
"Gopichand has stopped shooting for a while. He wants to stay with his wife and look after her. He was extremely busy the last few weeks with the promotions and release of 'Loukyam'. He plans to spend the next few weeks with Reshma," IANS quoted the source as saying.
Monday afternoon (13 October), it was actor Meka, who broke the news about Gopichand's child. The actor took to his Twitter page to share the happy news and tweeted, "Hero Gopichand Has Been Blessed With A Baby Boy !!!"
It should be recalled that Stylish Star Allu Arjun and young tiger Junior NTR have also welcomed new members to their families earlier this year. Gopichand is the latest to have a baby this year. Interestingly, all the three stars have had baby boys.
However, the year 2014 seems to be very lucky for Gopichand, who has double reason to celebrate. Firstly, his latest outing "Loukyam", which released on 26 September, has proved to be a big hit in his career and is still doing well at the box office.
Secondly, the arrival of the baby boy has multiplied his happiness.
We (IBTimes) congratulate him on these two achievements.
Meanwhile, the congratulatory messages have started Gopichand's way.
Raghava tweeted, "Good News - Macho Hero Gopichand blessed with a Baby Boy ... Heartly Congratulations to lovely couple Gopichand - Reshma :)"
RJV tweeted, "Gopichand Has Been Blessed With A Baby Boy ... Congratulations:
Mahesh S Koneru tweeted, "Baby boy for actor Gopichand! Congratulations!"