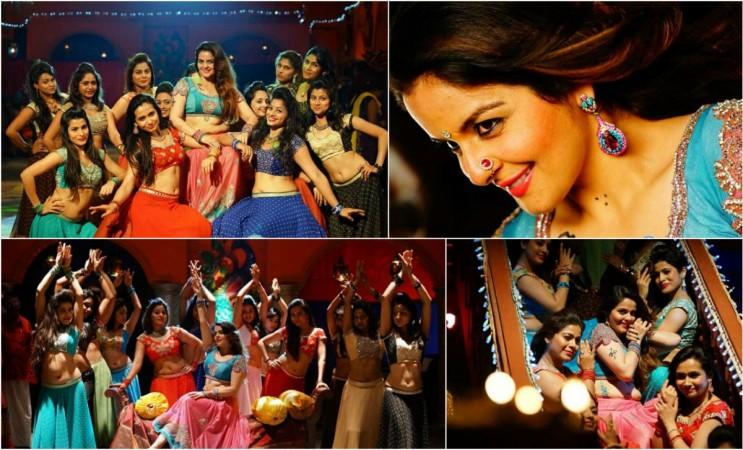 Malayalam movie Sathya, the last directorial venture of late Diphan, made headlines even before its release, thanks to music composer Gopi Sunder, who is said to have lifted the tune of one of its songs, featuring Jayaram and Parvathy Nambiar. After the release of the action thriller on April 20, the film also garnered a negative response from the audience for the use of outdated formula, amateurish direction as well as poor script.
Read: Jayaram's Sathya movie review by critics
On Friday, the makers of the Jayaram-starrer released the video of actress Roma's "item song" from the movie, sung by sung by Sithara Krishnakumar. Despite being an item number, as it is evident from the attires of the dancers, Chilankakal Tholkkum feels like a devotional song and it has become a hot topic of discussion on social media with netizens creating hilarious memes and trolls on it. "Just close your eyes and listen to the song and you will feel it like a devotional song," comments a social media user.
Also read: Netizens unhappy with Gopi's composition
"Item dance with devotional song✌ wow!! psychological move!," commented another. "First time in the history of world cinema, I have seen an item dance with classical dance steps. This is the reason why Jayaram's Sathya is different from all other movies," reads a comment.
Meanwhile, Gopi has shared a troll video on the same and posted on his Facebook page. "I loved it , sithara and my self couldn't stop laughing... amazing creativity.. trollers ne namichu . [sic]." Sithara has also reacted to the trolls saying she was not even aware that it would be an item song.
Recently, music lovers had found a similarity between the Njan Ninne Thedi Varum song from Sathya and the hit Tamil song Halena Halena from Vikram and Nayantara's Iru Mugan. Gopi, who is often called "copy sunder" for copying tunes for the songs, was then criticised for the same. However, even music composer Harris Jayaraj has copied the music of the popular Tamil track from Tony Fadd's Fetty Wap - Trap Queen music video.
Meanwhile, the audience have found that the tune of his composition, used as the title song of Dileep's Two Countries, and the tune of Dulquer Salmaan's upcoming movie Comrade in America (CIA) are also similar. Both the compositions are by Gopi. The similarities between the songs were noticed after the audio track of the fast number, sung by Dulquer, was recently released online.
Listen to the song Chilankakal Tholkkum here:
Here are some of the hilarious memes on Gopi Sunder's composition:
Picture 1: Since many were sharing the item song from Sathya, I decided to watch it.
Picture 2: Sreenivasan saying: "I have now decided to go to temple every morning."
Picture 1: This is the best item song ever seen in Indian industry.
Picture 2: Salim Kumar saying: "That's why Jayaramettan's Sathya is different from all other movies."
Dileep as director: What is this? Item number or devotional song?
Indrans as Gopi Sunder: Isn't it not item song? My God! did I give the casatte of item song to temple committee?
Picture 1: Dileep as Gopi Sunder: From where will I lift the tune for an item number for Jayaramettan's new movie?
Picture 2: Dileep looking at his own compositions (green) and other language songs (red): I should try some variety this time.
Picture 3: Dileep looking at devotional song: Hai
Gopi Sunder right now. Isn't it a variety song?
Picture 1: My grandfather, who was sleeping woke up after hearing the item song in Sathya.
Picture 2: Oh God! Its morning already? I can hear song from temple.
Me after hearing the Sathya item song: What is this brother? Is this the devotional song of Chakkulathamma?
Picture 1: Me watching the item song from Sathya at home
Picture 2: Changing the channel when mother came.
Picture 3: "You should not see anything good. What if you become a good person by hearing these devotional songs," says mother.